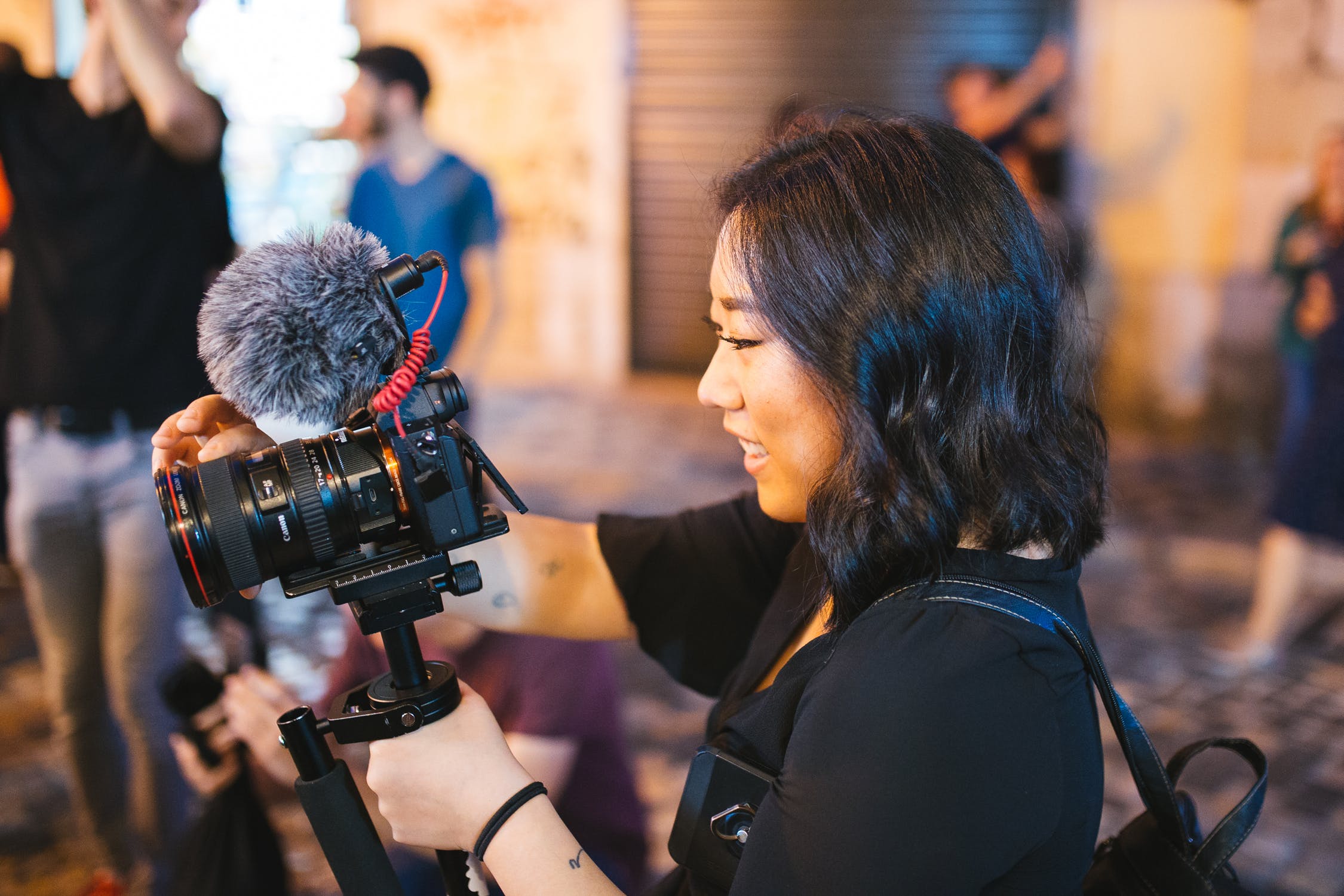 Top 5 ways to create original content in 2020
Introduction
If you want to stand out online in 2020, you're going to need amazing original content.
Producing high-quality content, however, goes beyond content production. You'll need to jump back into your content marketing process and potentially reshape your content strategy, research process, distribution efforts, and even data collection techniques.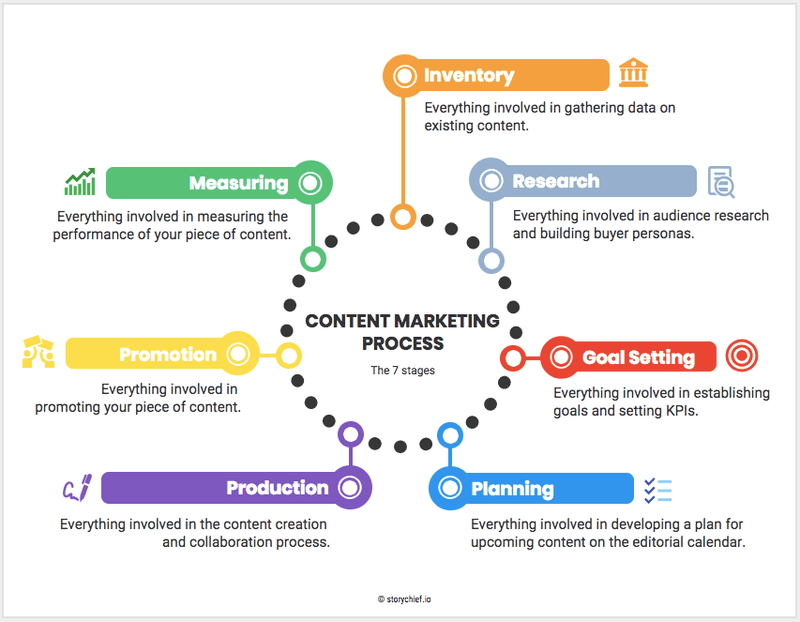 Improving your content marketing process sounds daunting. But don't worry! I've researched the top content marketing trends in 2020 and identified 5 simple and actionable ways you can improve your content efforts today.
Let's get to it!
Table of Contents
1. Invest in Video Content
Video content is entertaining, engaging, and easy to comprehend. It's no wonder 72% of consumers prefer video over text-based content. Furthermore, video can also help you improve SEO results significantly. According to Moovly, you're 53 times more likely to rank on Google if you have a video on your site.
Producing video is, however, an expensive and tedious process as it requires preparation, filming, and editing. Yet, despite this major obstacle, 83% of businesses find that investing in video content gives them a good return on investment (ROI). Below are a few actionable steps to help you get started.
How To Get Started
1. Focusing on YouTube
There are many channels you can upload video to, but I recommend focusing on Youtube first. As the second most popular website in the world, Youtube is a heavy-traffic search engine that allows you to accumulate views years after uploading your content.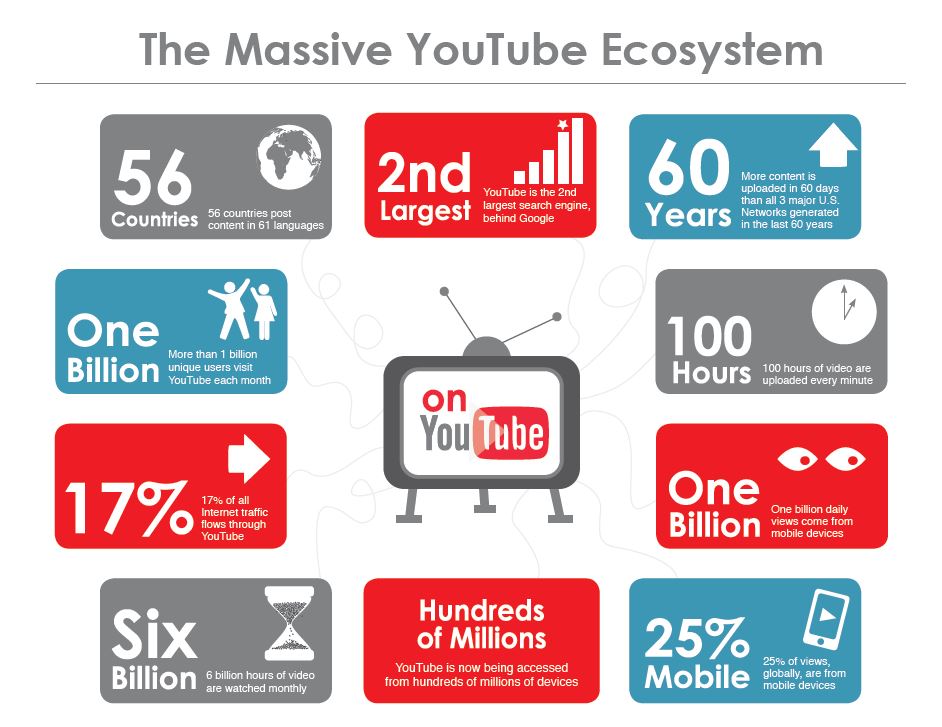 For example, Brian Dean, a world-renowned SEO expert, discovered that the majority of his 200,000 video views in one month, came primarily from videos published 6 months ago.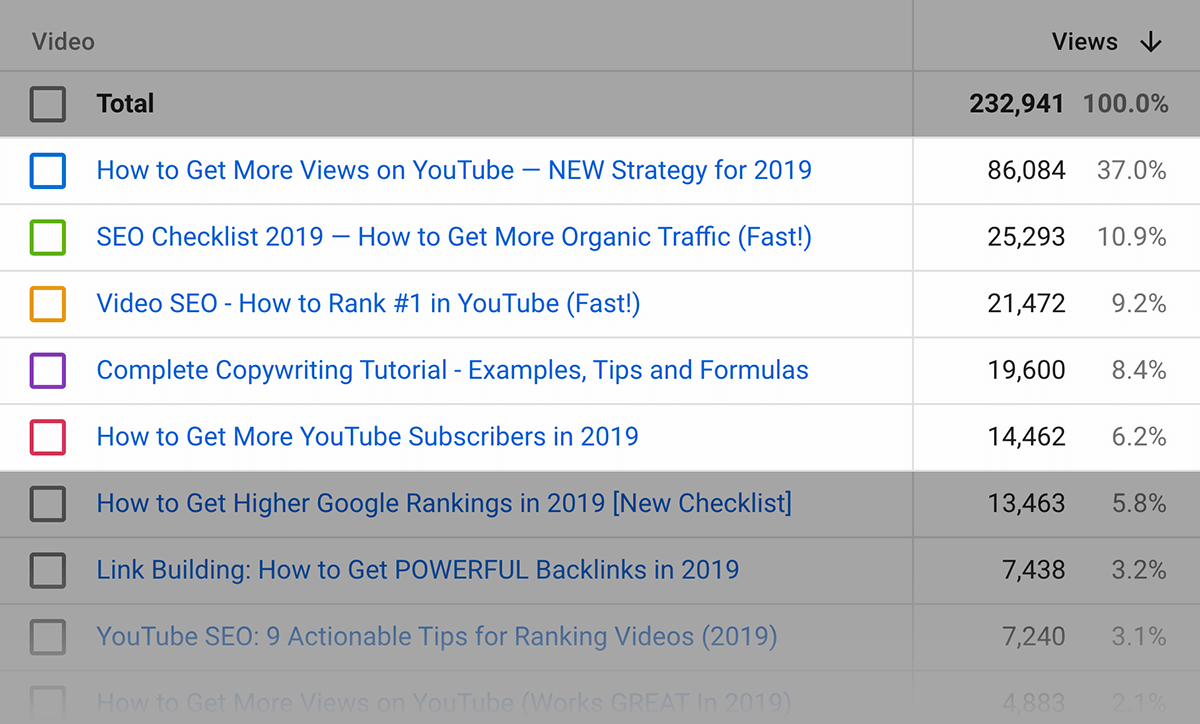 2. Planning Your Video
Before you start, you need to identify why you're creating video content. Are you looking to educate, engage, or bring awareness about a topic? Being aware of your why can help you understand what you want to achieve.
To create actionable steps, make sure you answer all these questions as well:
What is the message of the video?
Who is your target audience?
What pain points or problems are you addressing/solving?
What is your budget?
In the planning process, you should define your overall strategy and find out what type of videos you'd like to produce (e.g. simple presenter video, tutotials, complex motion graphics, etc.). See our video content strategy guide for more in-depth information.
3. Preparing Your Equipment
After discovering what type of video you'd like to film, you need to prepare your equipment. A large factor that determines your end result is your budget. If you're just starting out, I recommend doing the filming and editing yourself.
You can start off with less than $50. Here's how:
You can start with a simple setup, as seen below.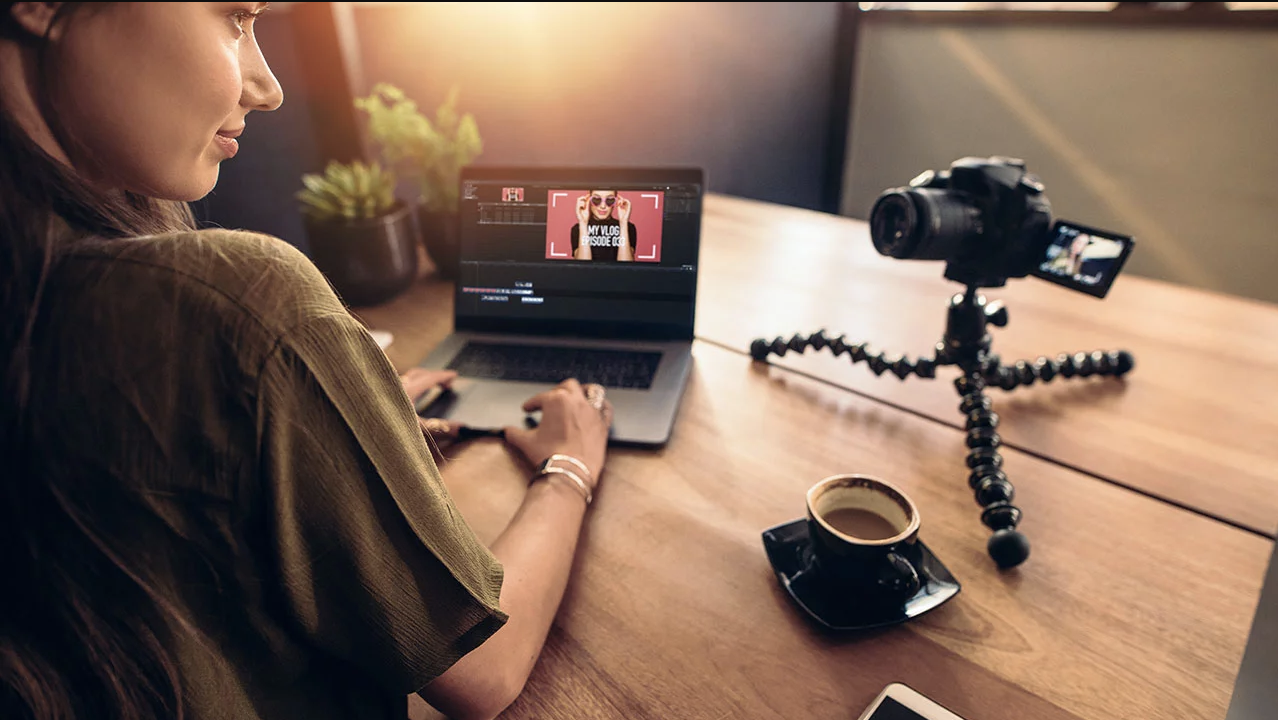 As for filming and editing, you can access articles and tutorials online here.
If you don't want to be on camera, you can do a simple video voiceover and screen-recording. Tutorial videos are fantastic if you want to educate and inform your audience.
For example, if you're writing a blog about reviewing online website builders, you can create a video tutorial about the Pros and Cons of a website builder like Wix. Videos are very useful in this circumstance because the viewer can see the user experience and interface of the website builder.
To start, you can find a list of free screen recording tools here and a list of budget microphones, here.
Whilst some of the free screen recording programs are perfectly suitable for most cases, you can get quite a bit more advanced features like annotations, titles, callouts and transitions with something like Camtasia, which is our personal favorite. It also works on both Windows and Mac.
Another good program is ScreenFlow, but that's only available for the Mac.
2. Make Your Audience Feel Smart
Good content will make the writer feel smart. But, as Wharton Professor Adam Grant puts it, great content will make your audiences feel smart.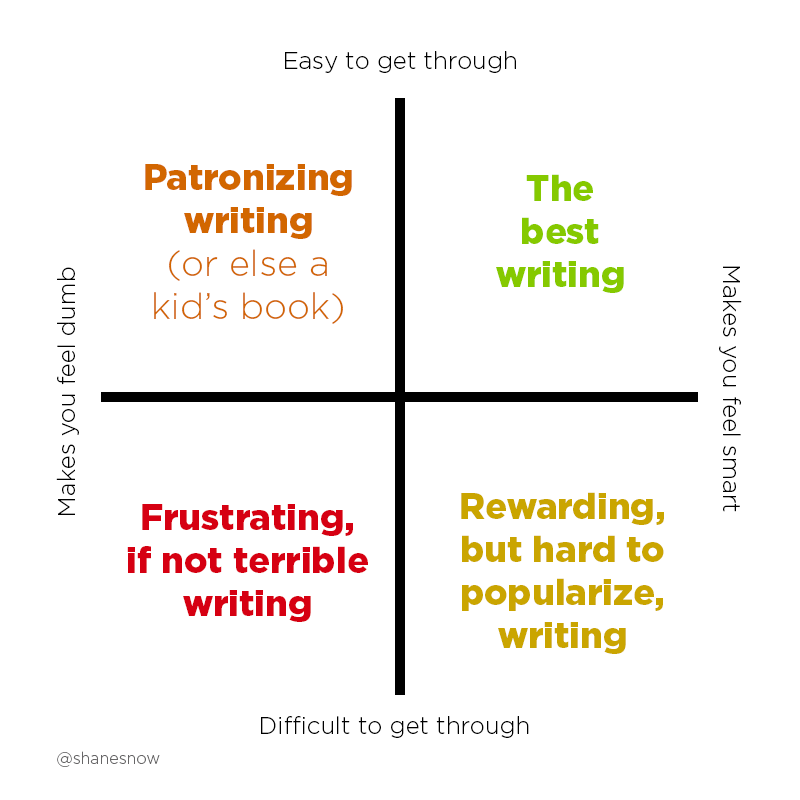 Making your audience feel clever and capable can be tricky if you're dealing with complex subjects. Thankfully, there are ways to get around this. While we'll discuss this below, remember that creating original content is about being empathetic, thoughtful, and clever about how you stitch together different ideas and concepts.
How To Get Started
1. Put Your Reader First
Helping someone understand more about a subject or solve a problem requires an understanding of where they started. Think about your target audience. Conduct a design thinking exercise and write down how your persona feels and why they want to know more about the subject.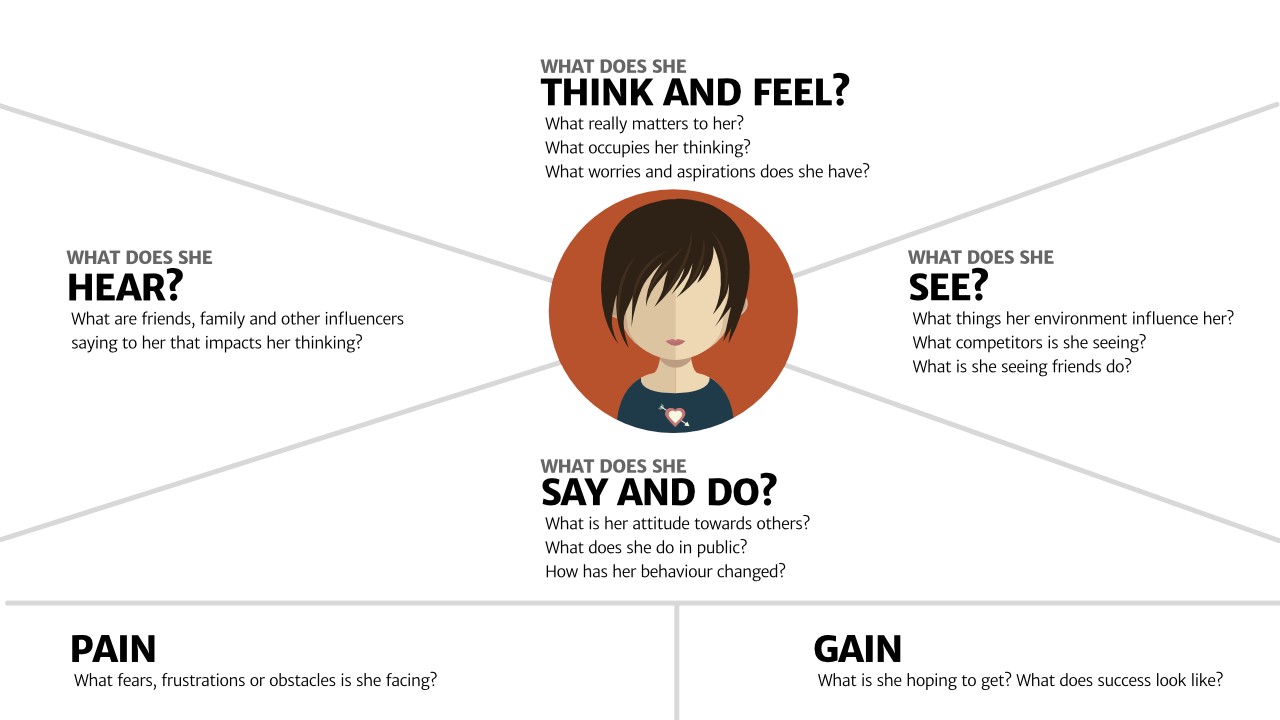 Next, think about who they'd love to hear from. If it's a sensitive subject matter, it could be a close friend or family member who would sound warm, friendly, and understanding. If it's about a particular sport, it could be from a professional athlete or trainer who could come off as motivational and inspiring.
2. Explain in Plain Language
It's best to explain things in the most simple way possible (yes, this includes overly difficult subjects). If you need to use industry-specific jargon, mix that with simple terms an 8 years old would understand.
Here's a SEE-I Framework you can use to keep it simple.
S (State): Outline in 1-2 sentences what the topic or subject is
E (Elaborate): Paraphrase the previous statement and explain further
E (Exemplify): Provide an example to cement the reader's understanding
I (Illustrate): Illustrate the subject using a metaphor, analogy, or comparison
3. Focus on Sentence Fluency
Every great piece of content has a rhythmic flow. It's the feeling readers get when they want to keep reading.
For example, digital marketing guru Neil Patel has a unique rhythmic flow in his blog posts. While his posts contain technical jargon (around digital marketing and SEO), his writing is friendly, helpful, and conversational. If you pay attention to his sentences, there is a nice mix between short and truncated facts and longer data-focused sentences.
The best way to make someone feel smart is to combine words at a level they understand, create an approachable, relatable, friendly tone, and vary your sentence structure so there's a nice rhythm and personality to your writing.
Naturally, it is important to be accurate when it comes to spelling and grammar, something that the free Grammarly browser extension can really help with. Simple mistakes can get in the way of otherwise good quality content.
3. Create Data-Driven Stories
Telling data-driven stories is a fantastic way to humanize statistics and see beyond the numbers. It's easy to throw a pile of statistics together and let your readers drown in a sea of data. Without background context, metrics and data just look like numbers.
An online tool like Canva can help you easily create original infographics, charts and other visuals.
So if you want to emphasize a point using data, your readers need to understand why the data you selected is important. In fact, it should be so important that they feel inspired and are driven to take action.
Telling data-driven stories is a fantastic way to humanize statistics and see beyond the numbers. It's easy to throw a pile of statistics together and let your readers drown in a sea of data. Without background context, metrics and data just look like numbers.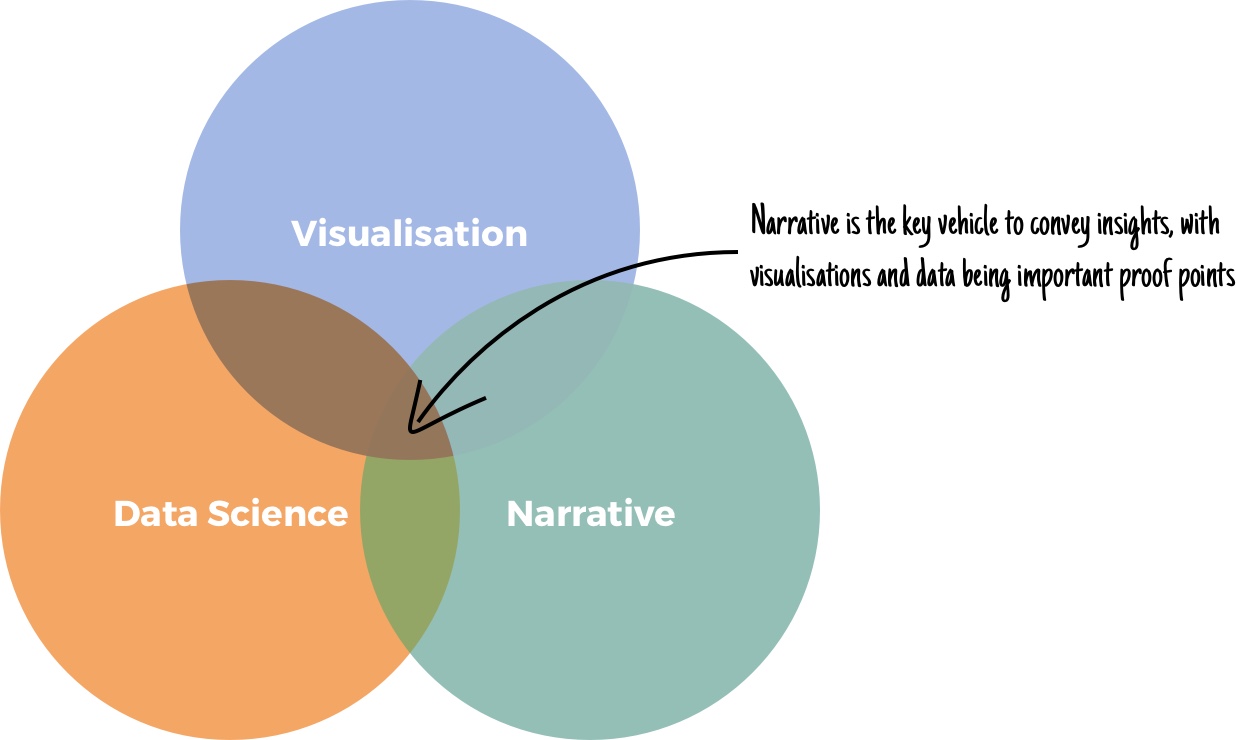 For example, if you're writing an article about the benefits of working as a freelancer for a parenting magazine for newborn mothers, you can start with a real-life example of a mother who works part-time from her home. As the story talks about her ability to balance parenting and work, you can introduce an impressive statistic; that 77% of people who began freelancing felt an improvement over their work-life balance. This shows that you're not just telling a one-off example, but (in this example) living the freelance dream is something the reader can be apart of.
How To Get Started
1. Identify Your Primary Message
Selecting a stand-out statistic will help you create a more memorable piece of content than a data cram. There are 2 ways you can identify your primary message. You can begin by centering your content around a key message and then finding a statistic that highlights this point, like the example above. Alternatively, you can find an interesting statistic and explain why your audience should pay attention to this number.
2. Remember Your Audience
If you're going to create a data-driven narrative, you need to know which stories will have the highest impact. Consider what your readers already know about this topic. You should frame your content around the level of knowledge and information your readers already have.
In the example above, my audience were newborn mothers, so a majority of them would be beginners when it comes to freelancing. If it was a magazine for freelance writers, I'd have to select a different statistic and story since my readers are more knowledgeable in the field.
3. Create a Narrative
Once you've selected a key statistic and understand your audience's knowledge level, it's time to create an irresistible story. You should look into your audiences' greatest questions, pain points, and challenges.
You need to make sure your narrative has a hook, momentum, or captivating purpose. If you're unsure about how to structure the narrative, use the same techniques that the best storytellers use, like a story arc that has a relatable protagonist, status quo, and the path to success for the protagonist.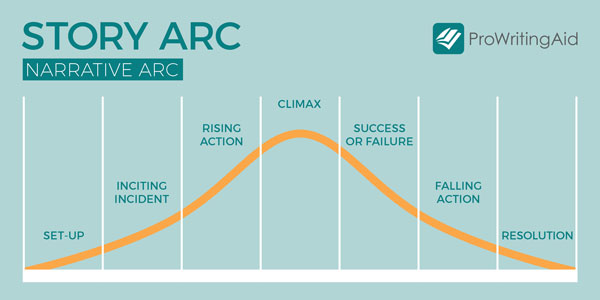 Remember, the best stories are also the ones that inspire action!
4. Explore Relationship-Centric Metrics
Long gone are the days of shallow metrics like vanity and transactional metrics. Today, content marketing will focus on relationship-centric metrics. Metrics like return visitors, subscribers, churn rate, and demo requests will grow increasingly popular as brands look to strengthen their relationship with readers, prospects, and buyers.
How To Get Started
1. Measuring Return Visitors
One way to measure your relationship with your readers is to measure their return visitor rate (RVR). RVR measures the rate of return visitors to your website. It's a great indicator of whether your content marketing and marketing communication efforts are performing well.
According to Contently, to calculate RVR, divide the number of return visitors to your website by the number of total unique visitors for a given period of time. For example, in July, if you had 10,000 total visitors and 3,000 were repeated visitors, your RVR is 30% (3000/10,000 = 0.3). Most companies in the eCommerce sector tend to have RVRs from 25 to 50%.
If your RVR is:
Under 25%: You need to work on your content strategy
Around 30%: You're publishing engaging content
Over 50%: You have excellent content and can invest more money in paid distribution and work on attracting new users
Make sure you track and measure your RVR consistently. Google Analytics will do this for you.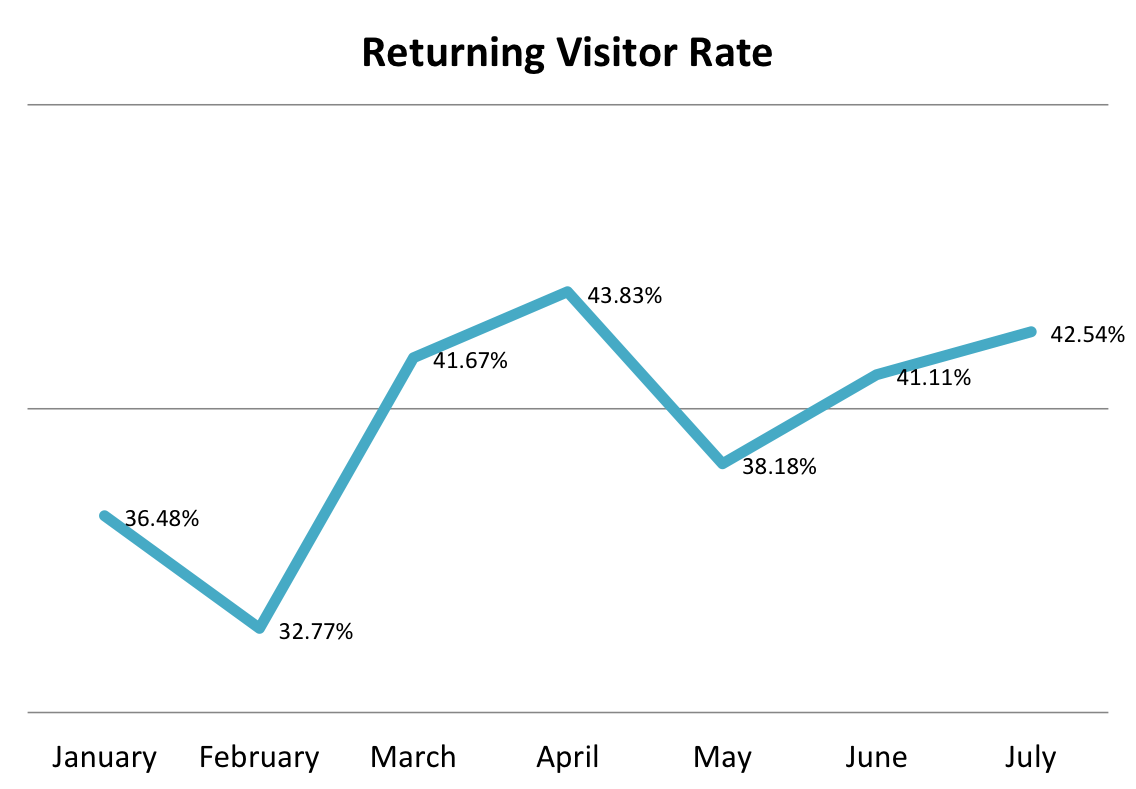 2. Measuring Churn Rate
A churn rate is a rate at which customers stop subscribing to a service. This is a great metric to assess your relationship with your readers. A low churn rate means that readers are staying on and they enjoy your content, while a high churn rate indicates that readers are dropping off and there may be a problem with your material.
While you can measure churn by subtracting new from lost subscribers, this number fails to tell us the pattern of those we lose.
According to Baekdal, the best way to identify the pattern is to measure their longevity. Every time someone unsubscribes, look at how long they subscribed for. You can then present that as a running average for the past 12 months. For example, the number may be 2.85 years (the average duration that all the people who churned over the past 12 months were subscribers.) This is your loyalty score. Your subscribers are more loyal if the number is higher and less loyal when it is lower.
What you don't want to see is an extremely low number. If your readers only stick around for 3 months, that means they have no loyalty at all. If you find that looking at the average number is too much of a simplification, you can segment the churning into initial subscribers, short-term subscribers, regular subscribers, and long-term subscribers and calculate the churn rate from there.
5. Distribute Your Content Effectively
There's no point in creating amazing content if no one sees it. The goal is to deliver the right content to the right people, at the right place, at the right time.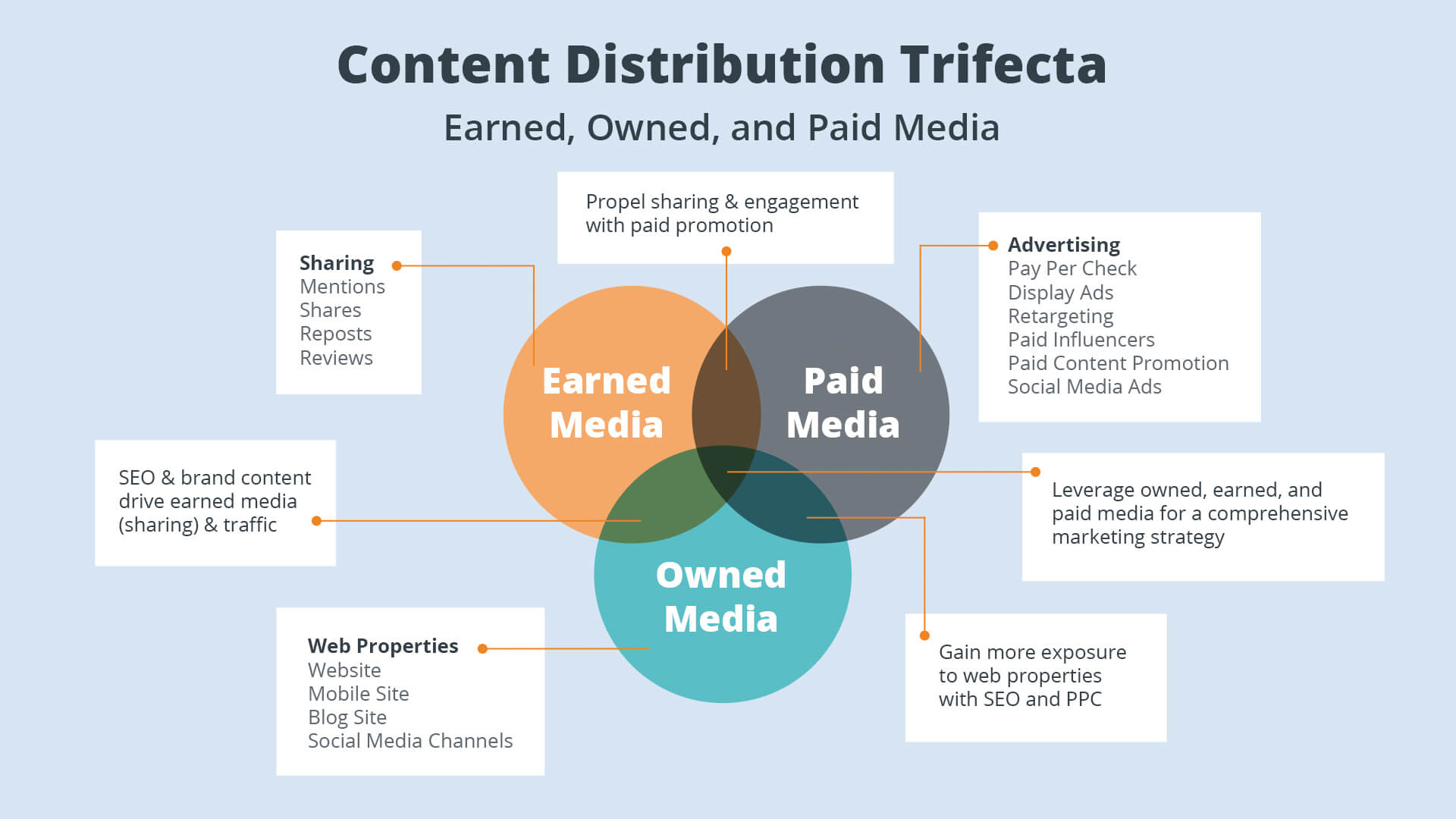 While the 80/20 Rule of Content Marketing states that you need to spend 80% of your time on promotion and only 20% on creation, this 80/20 rule is no longer effective today. There's no one perfect percentage when it comes to content distribution as every organization is different.
This is what makes distribution so tricky. Effective content distribution is highly dependent on your target audience. If you can target a niche audience well, you can effectively distribute your content at lower costs.
How To Get Started
1. Choose your Content Distribution Channels
When it comes to content distribution channels, more does not always mean better. Ideally, you should choose to work on a few channels that your target audience is most active on.
For example, if I had a swimwear blog targeting millennial females, I would be active on Facebook, Instagram, Pinterest, and Youtube. On the other hand, if I had a SaaS startup, I'd hop on Facebook, Twitter, Medium, and YouTube.
If you're not sure which channel is most appealing to your target audience, you can begin by:
Getting to know your readers or consumers
Asking them which channels they use
Asking them how often they use these channels
Enquiring why they like the channel
Seeing what they look at in the channel
2. Decide on your content types
Once you've selected your channels, it's time to decide the type of content you want to post on each channel. Remember, your target audience goes to each social media platform with a different intent and purpose. That's why you need content tailored to that specific platform.
Here's a general guideline, from Alfred Lua, the Community and marketing manager at Buffer, when it comes to optimizing your social content:
The internet is littered with content. But it's pretty hard to come across amazing and original content. It takes time, effort, and energy to produce high-quality content. For starters, you need a strong content strategy, production skills, and a distribution process to get going. You'll also need to be consistent and persistent with your efforts to see results.
If you're not sure how to start, I recommend diving straight into video. Video content is now a must-have for any digital marketing strategy.
That's why, it's a great opportunity to invest in original content today. Great content is hard to produce, so if you're keen to jump into content marketing, you can gain extremely high ROI, trust with readers, boosted brand awareness and even make more sales.
If you're not sure how to start, I recommend diving straight into video. Video content is now a must-have for any digital marketing strategy.
I hope this blog post on creating original content in 2020 has been helpful! If you have any other questions, please feel free to comment below, and I'll get back to you shortly.
Disclaimer: Some of the links here and elsewhere on this blog are affiliate links that may provide me with a small commission at no cost to you. This enables me to run this site without annoying ads and to keep providing relevant and actionable content for free. Thank you!