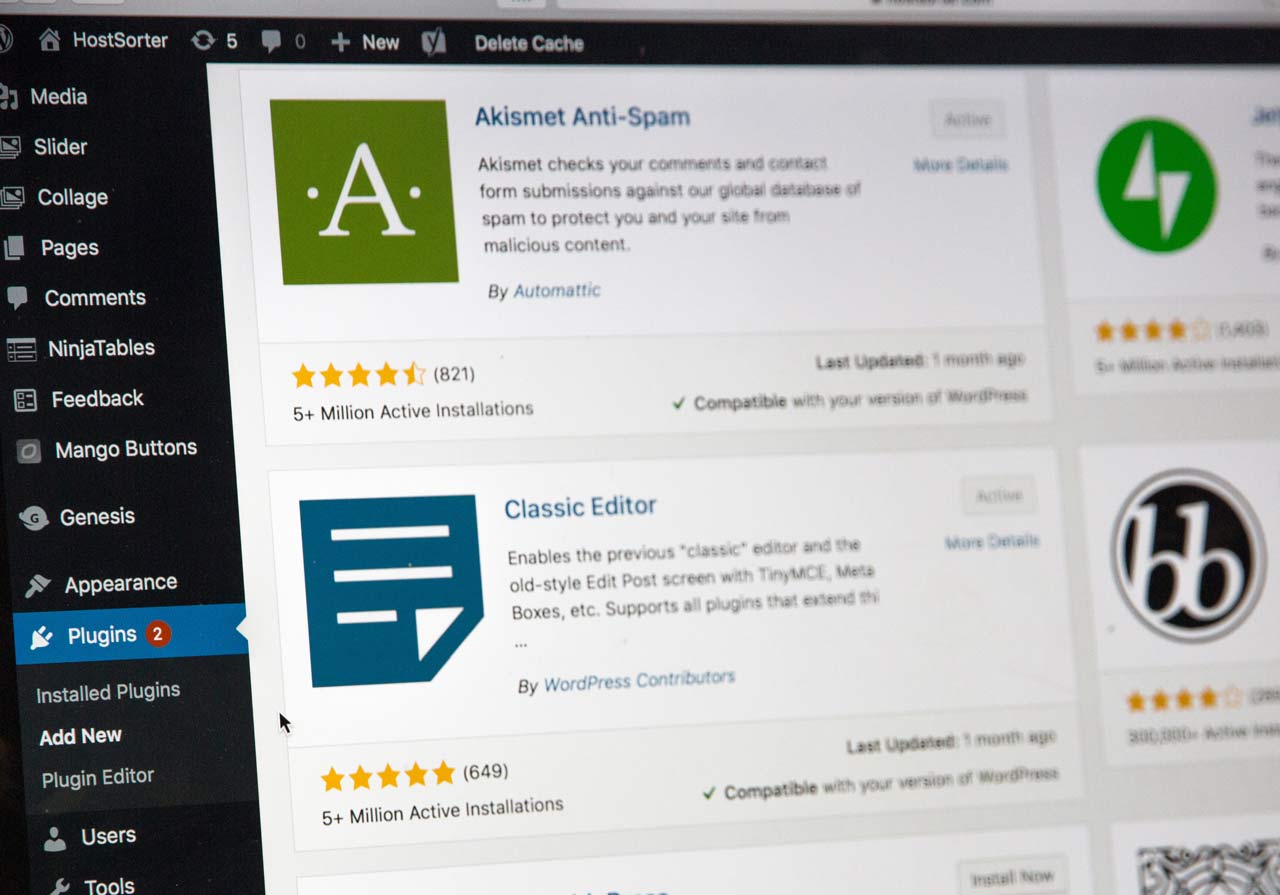 5 Things To Consider When Choosing a WordPress Hosting Provider
Introduction
Choosing a WordPress Hosting Provider is one of the biggest decisions you'll make when launching your website.
Think of it this way.
Your host houses all the files to your site. If you have a slow host it'll take a lot longer for the host to send your site's files to your visitor's browser, resulting in slower loading pages.
A slow loading site can destroy your website.
It can lead to:
Lower SEO ranks
Reduced traffic
Poor conversion rates
Reduced profits
But that's just speed.
Factor into account poor security and support, and your website could be down for days!
It can be extremely challenging knowing what to look for when it comes to choosing a good WordPress host. That's why to help you out, I'm going to show you the 5 factors you should consider and how you can assess each provider.
WordPress Hosting
Let's start with site speed!
1. Speed
How Important is Site Speed?
Speed is vital when it comes to making money online.
If your site takes longer than 3 seconds, 40% of people will abandon it immediately. Today, 47% of customers expect sites to load within 2 seconds…any longer and you're losing customers!
But that's not all.
Not only does speed affect user experience and conversion rates, but it's also a Google-confirmed ranking factor. So not only will a slow loading site give you less customers, but you'll also have fewer prospects coming to your site as well.
How Your Host Impacts Speed
When a visitor goes to your site, your host's server needs to execute code, run database queries, and serve files so your visitors can see the site.
Here, the faster the server, the quicker the site loading time.
The hosting plan and resources dedicated to each plan, have a major impact on the server's speed. Below are 4 common WordPress hosting plans that have varying levels of processing power and memory.
Shared WordPress Hosting is when your website is sharing a server with many other sites. It's the most affordable and popular option and a great choice for blogs and small businesses. However, since you're sharing with other sites on the server, they may end up consuming a lot more bandwidth, which can slow down your site.

Virtual Private Server (VPS) WordPress Hosting is when your website gets a dedicated server with multiple users. Here, your resources like CPU and bandwidth are partitioned, so unlike shared WordPress Hosting, you won't be affected much by your sharers. Furthermore, your website is also allocated more resources. It's best for medium-sized businesses and high traffic blogs.

Dedicated WordPress Hosting is when your website has a server all to itself. While you gain total control over the server, have a higher level of security, and better performance, it can be costly. It's best for large high traffic blogs.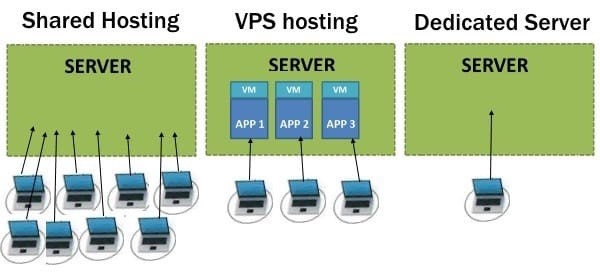 Managed WordPress Hosting is when your host takes care of a server and other infrastructure for you to help your site run faster and more securely. The server can be shared, VPS, or dedicated. It's a convenient and hassle-free way to maintain your site.
Comparing the Speed of Each Host
With thousands of WordPress Hosting Providers available, it can be difficult knowing where to start. Here are two ways to vet through the list of providers.
1. Online Reviews
To narrow down your search, you can crowdsource your opinion by looking at third-party review sites that aggregate thousands of reviews to give you an overall score.
For example, if you go to TrustPilot, you can filter for the top-rated web hosting companies.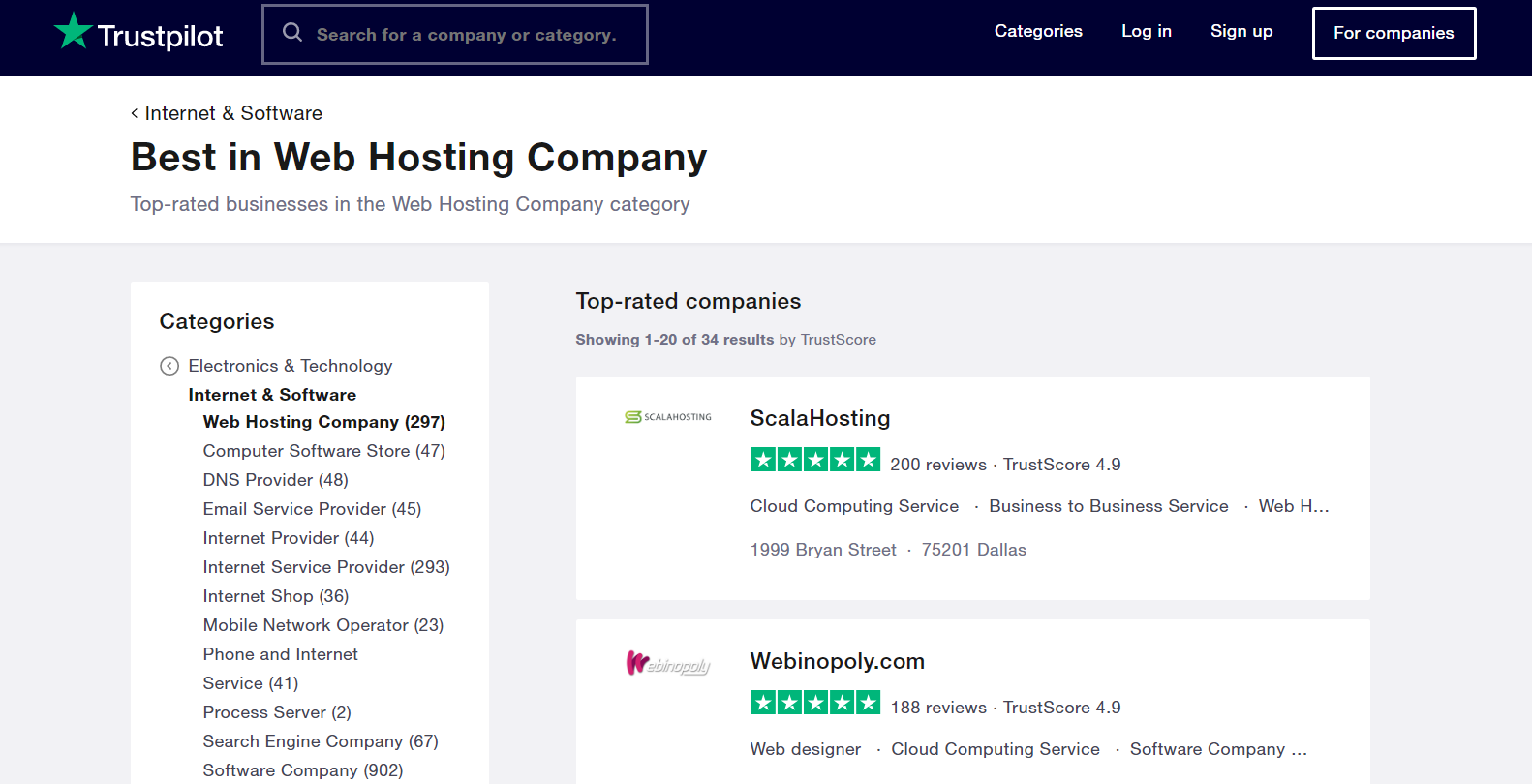 Read these reviews to see what others have to say about the company and select your top 10 Wordpress hosting providers that have a:
High Trust Score
Large number of reviews
Positive reviews that highlight fast loading times
2. Specific Reviews, Other Tests and Experiments
Once you have your top 10 providers, have a look at specific reviews about the WordPress Hosting Provider.
Do the larger majority of users have fast loading times?
Are there any concerning factors regarding speed?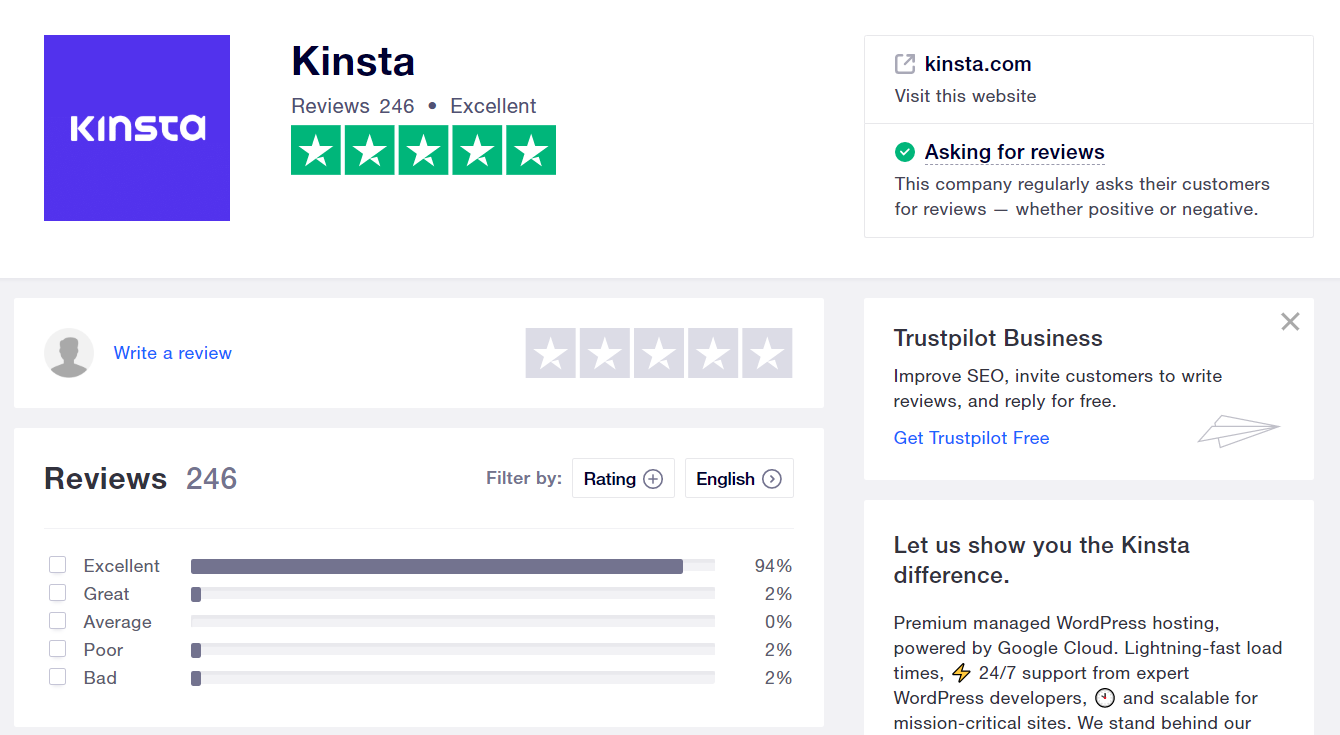 You should also have a look at tests and experiments others have run. For example, Matthew Woodward's Testing The 12 Fastest WordPress Hosting Providers, is a great article that compares the speed from 12 different providers in 7 global locations.
He measured their:
GTMetrix website speed
Pingdom website speed
Host performance under stress
Performance of the actual server (not from cached results)
The founder of the review Signal's Kevin Ohashi also has an in-depth post concerning Wordpress Hosting Performance benchmark for different price tiers. With this article, you can see which hosting companies provide the best performance based on their pricing tier.
2. Support Quality
How Important is Support Quality?
Problems are going to come up whether you're:
Setting up your site
Installing new plugins
Redesigning the site layout
Tweaking a bit of code
That's why it's extremely frustrating if your host takes a really long time to get back to you. If you're not technically trained, your website could be down for a long time.
Not only can this cost you sales and customers, but you might need to pay someone to get it up and running again!
Just look at this as an example.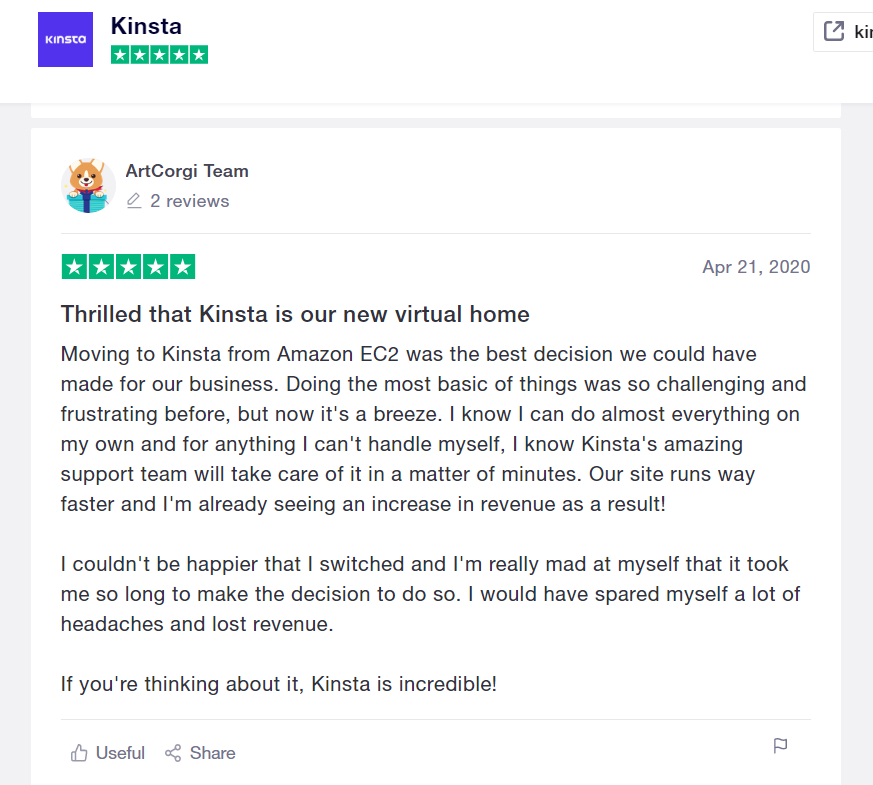 Finding a web hosting provider with fast and reliable support is critical for all online businesses.
What Level Of Support Do You Need?
Before we jump into the different providers, you need to outline your personal requirements.
Hands-on-Support: If you're unfamiliar with website development, you should consider a managed Wordpress hosting solution because they provide superior assistance.

Preferred Method of Contact: While every provider has an email and a trouble ticketing system, not all of them have phone support or live chat. If you want to talk to someone in real-time and explain your issue, consider an option with phone support. If you prefer to handle multiple tasks at once, go for a solution with live chat.

Tight Budget Restraints: If you want to be as lean as possible, you can start with a shared WordPress Hosting Solution. However, shared hosts tend to make money via upselling and hidden fees, so if you need assistance with malware removal or site migrations, you'll need to pay extra. Cheap providers and packages also generally have slower support teams.
Comparing the Support From Each Host
Once you have a list of hosting providers that offer the support you need, it's time to assess the quality of support from each provider.
Metrics to Evaluate Customer Support
Response Time: How long it takes for the customer support team to respond to your messages or calls is important, especially if your site is down. Ideally, your WordPress host has either phone support or live chat, since these options have a quicker response rate than email or a ticketing system. Choose a provider that has a response rate of less than 10 minutes.

Resolution Time: How long it takes to resolve issues related to your site is critical since every second your site is down can cost you customers. You should choose a hosting company with a reliable history of resolving problems quickly. Your host should be able to resolve most problems within 24 hours.

Knowledge Base: Have a look at the hosting provider's knowledge base. There are many problems you can troubleshoot yourself. Find a provider that updates their knowledge bases often and tends to add solutions to new problems as they interact with customers.

Guarantees: Many hosts offer guarantees when it comes to support. Cross-check online reviews to see if they uphold their guarantees.

Staff Expertise: Almost every host has self-proclaimed WordPress experts. Look at review sites to see whether support staff can genuinely resolve a wide range of problems quickly.
1. Customer Reviews
Have a look at review sites like TrustPilot or G2 Crowd. But remember, don't make your decision based on a few solid reviews.
Go through a number of different reviews from all the providers and focus on the ones concerning customer support like whether the support team:
Were quick and attentive to reply
Resolved the problem quickly
Experienced any problems or hiccups during the process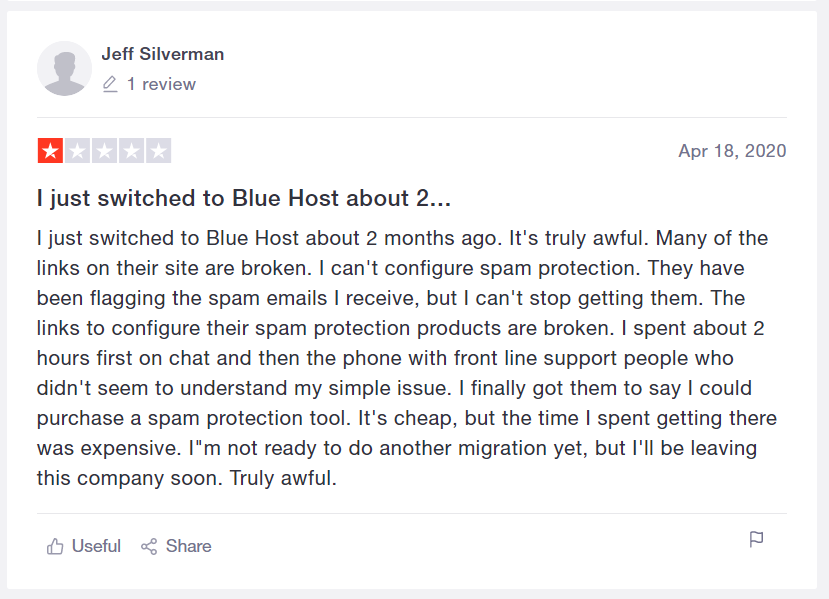 2. Other Tests and Experiments
You can also gain a better understanding by reading others' experiences with the hosting site. For example, in '12 Fastest WordPress Hosting Providers,' he asked each WordPress Host to solve 3 common problems:
Can they take care of website transfers?
Can they remove malware on my test site?
Can they stop other sites from hotlinking my images?
He measured each host's ability to resolve the problem, comparing them with one another. This is a great way to see which host offered the level of support desired and which ones required additional payment to resolve these problems.
3. Craft Your Own Experiment
You can also assess support capability by reaching out. Even if the support team only responds to paying customers, it's a good way to gauge response time.
Live Chat: While browsing through the hosting company's site, ask some questions to live chat to see how quickly they respond.
Phone Call: Make a call at odd hours to see how long it takes for someone to pick up. If they respond, listen to their tone and see if they're friendly and eager to help.
Email: Send a generic query at an unusual hour and note down their response time.
If your hosting provider doesn't respond within 24 hours, that's a host you want to avoid!
3. Security
How Important is Site Security?
Did you know that 30,000 new websites are hacked everyday?
Unfortunately, these websites often belong to small businesses. So if your website is not well protected, hackers can steal your information, passwords, install malicious software and send malware to your users.
Even a small hack can hurt:
Business Revenue
Profits
Brand Reputation
…especially if you're an ecommerce site.
What Security Features Do You Need?
A good WordPress Hosting service will take additional steps to protect their servers against common threats. They'd continuously monitor their network for suspicious activity and ensure their server software and hardware is up to date.
Although you're dependent on their word and good faith for the above activities, there are additional security features some WordPress Hosting Providers offer.
These include:
Backups: If your site is hacked, restoring a backup (the latest version of your site prior to the hack) is the fastest way to recover. You'll need to close any security vulnerabilities first, but backups can get your site up and running in minutes. Most hosts offer daily, weekly, and monthly backups, but daily backups are the best option.
You should ask your hosts:

If the backups are automated
How many backups you can keep
Whether it is easy to restore a backup
Where the data is backed up to
Whether there are additional costs involved

SSL Certificate: While installing an SSL certificate and running your site over to HTTPS is often overlooked, it's vital to maintain a secure connection between a website and browser, to prevent hackers from gaining access to your site. Most hosts offer a free, quick and easy way to install a SSL Certificate, however, some hosts can charge you for it. Check whether a free SSL Certificate is included in your plan.

DDoS Prevention: DDoS is a DOS attack where multiple systems target a single system, causing a denial of service attack, which can take down your site for hours or days. While most hosts recommend you use a third party provider like Cloudflare or Sucuri, some offer DDoS protection in their plans.

Antivirus and Malware Scanning: Malware is a major problem, especially when there are over 18 million sites infected every week. While some providers require customers to purchase third party malware removal software on top of their hosting plans, a good host would remove malware for free.
If security is a large priority, I recommend you go for a managed WordPress hosting option Managed WordPress hosting companies often offer additional security features and advanced security configurations.
Comparing the Security Features From Each Host
Make sure your Wordpress provider and plan contains:
Daily automated backups
Free SSL Certificate
DDoS Protection
Daily system wide malware scans
Free malware removal from site
Option to deploy two factor authentication
Not all hosts offer these security features.
Have a look at what each provider and plan offers and see whether there are any major gaps. Enquire about any of the missing security features and see whether there are any additional fees.
Remember, while your WordPress Hosting Provider has a major impact on on-site security, site security is still the responsibility of the site owner. After choosing a reliable and secure host, you should also download WordPress security plugins like Sucuri, Wordfence, and iThemes. These plugins are free and can be easily installed on your site.
4. Price
Price Ranges and Hosting Plans
The price for hosting plans can range significantly, from $2 to thousands per month!
Here is an approximate price range for each plan:
Shared WordPress Hosting: From $2.75 - $15 per month
VPS WordPress Hosting: From $5 to $80 per month
Dedicated WordPress Hosting: From $80 - $730 per month
Managed WordPress Hosting: From $20 - $2,500 per month
While any web hosting plan can work for WordPress sites, it's best to go with a WordPress Hosting Provider because they are specifically designed for WordPress sites.
For example, Wordpress hosts also provide features like:
One-click WordPress installation
Faster loading times
Automatic updates
WordPress specific security features
Support Staff that are well versed with WordPress
Factors That Influence Price
Web Hosting Provider: Providers can offer similar plans at different prices because each host has differing speeds, uptime, quality of customer support, and ease of use. If you want a premium service, you should steer clear from the heavy budget plans.

Level of Storage and Bandwidth: The smaller your site, the less storage and bandwidth you need. But as your business grows, you should consider upgrading to larger plans.

Level of Security: A good host generally offers additional security features for your site. Check to see which security features are included in your plan, and which ones may require extra payment.

Number of Sites: Many plans allow hosting for one website. If you want hosting for multiple sites, select a plan that gives you additional sites.

Extras Included in Your Plan: Some hosts offer additional features like ecommerce features, webmail options, daily backups, site security add-ons, and scalability options. Take into account what you need and what is provided in the plan.
Why the Most Expensive Option Isn't Always the Best
It's easy to think that the most expensive provider is the best option.
But there isn't a clear correlation between quality, features and higher prices.
In fact, in Matthew Woodward's experiment, there were cheaper WordPress Hosting Providers and Plans that outperformed the more expensive options!
That's why, when you're looking for a WordPress hosting provider and plan, make sure you note:
Your Requirements
Your Budget
What's included in each WordPress Hosting Plan
This way, you're aware of what each plan offers. If you're bootstrapping and want to go for a more budget-friendly option, a lot of the lower priced plans will upsell additional features, so note down all the features they include in their plan.
Furthermore, WordPress hosting isn't the only expense you have to consider. You'll need to take into account other costs like:
Domain Name
Domain Privacy
Plugins
Themes
Web Design
5. Additional Features
Email Hosting
An email hosting service is when a hosting provider rents out email servers to its users, giving them a professional email.
A professional email includes:
A personalized domain name (yourname@yourbusiness.com),
More storage space
Robust antivirus and spam filters
… and many more.
Today, many web hosting companies bundle, sell, or include free professional email hosting.
Which providers offer email hosting?
Have a look at whether professional email hosting is included in all plans. If your host doesn't offer or sell email hosting, you can purchase it from another provider like Office 365 of GSuite. Additional hosting is fairly affordable ranging from $2 to $6 per user.
Staging Environment
A staging environment is one that duplicates the production environment so you can test any changes to the site and address any errors before the site goes live.
Staging environments act as the bridge between the development process and live version.
With a staging environment, your visitors will never have to deal with any downtime or problems with your site when you're changing your code. Everyone who runs a website should have a staging site, especially if your site generates income.
Which providers offer a staging environment?
See whether your hosting provider offers a staging environment in the plan. If it's not included in your plan, you can purchase a staging environment on top. Alternatively, you can install a plugin that allows you to create staging sites like WP Staging.
Site Migrations
A site migration is an event where a website undergoes substantial changes that can affect search engine visibility. While these changes can range from structure, content, platform, and design, here, the change we're going to focus on, is moving from one web hosting provider to another.
When you're migrating your site, there are many things that can go wrong, which can lead to downtime or can even damage your site. Thankfully, there are WordPress hosting companies that provide free site migration services with every plan.
Which providers offer a staging environment?
Generally, site migrations can cost an additional few hundred dollars if you're on a budget plan. So have a look and see whether free site migrations are included in every plan.
Wrapping It Up
If you're new to website development, it's important you take the time to understand, select, vet different WordPress hosting providers.
Remember, don't rush the process.
If you go with a slow provider with poor support and security features, it can seriously hurt your site. Not only will a slow website lead to unfavorable SEO and lower conversion rates, but a hacked site can cost thousands to repair!
So when you're choosing a WordPress Hosting Provider, make sure you look at their:
Speed
Support
Security
Price
Additional Features
Have a look at what others say about popular providers and note down their experiences with the company.
Do their websites load quickly?
Is the support team readily available?
Does customer support resolve problems quickly?
Does the company try to sell you many add-ons?
If you're not too sure where to start, just hop on a third-party review site, browse around and have a read. You can also look at the WordPress Hosting Provider's site to gain a better feel of the company's services.
Spend a good amount of time evaluating your WordPress hosting Providers.
Your decision today can save you a lot of money tomorrow.
What are you waiting for?