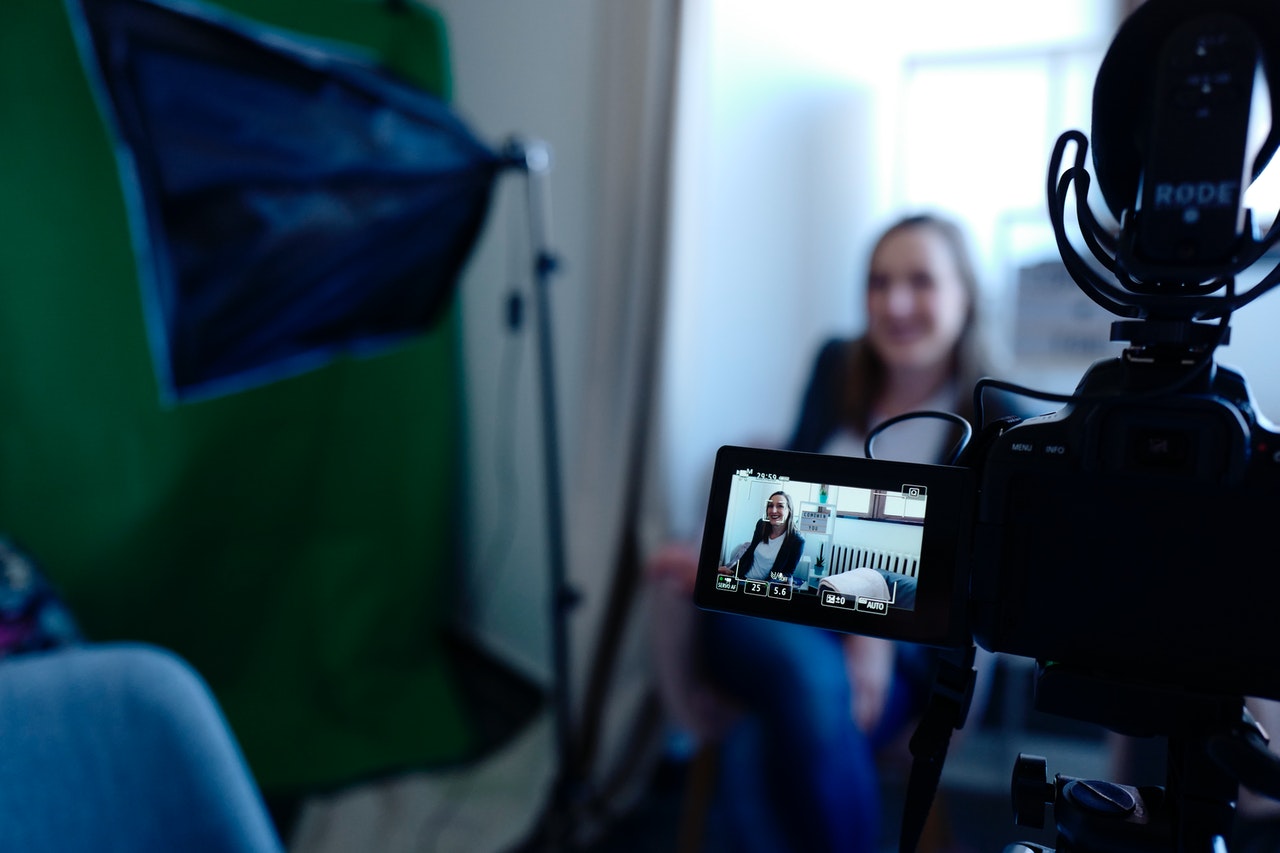 Video Content - Build a successful Video Content Strategy with these tips
Introduction
Video is a versatile and valuable tool.
Throughout the entire customer buying journey, video content delivers easy-to-follow information and entertainment, perfect for keeping clients engaged with your brand.
Even on social media, 93% of businesses say that they're gaining new clients thanks to video.
Unfortunately, as fantastic as visual content can be when it comes to taking your content strategy to the next level, many organizations still don't know how to use this format properly.
To help you take the plunge into this new era of video content marketing, we're going to show you exactly how you can create a plan that enhances your brand potential.
Let's get to it!
Video Content Strategy
Why Video Content?
There are plenty of excellent ways for businesses to connect with their target audience these days.
A written article packed full of useful information is excellent when you want to develop your position as a thought leader.
A podcast is wonderful when you're trying to reach clients on their daily commute.
However, video remains to be one of the most powerful solutions for storytelling. It has an authenticity and honesty that helps companies to build better relationships with their clients.
Let's just take a look at the stats:
Those stats speak for themselves, anyone serious about digital marketing should become a video content creator! But there's another reason you and your business should be investing in video content: it improves SEO ranking!
How? Let's break it down:
Google's algorithms prioritize websites with video content over ones without.
Original content like video means users will stick around longer, which reduces your bounce rate.
People tend to share and link to good quality video content, increasing your backlinks.
Crucially, although video has the power to deliver incredible conversions and business opportunities to almost any brand, having the right strategy in place is the only way to ensure success.
Types of Video Content: What's Right for Your Business
We could spend this entire article listing different kinds of video content for your company to explore, from Q&A videos that answer crucial customer questions, to behind-the-scenes content that offers an insight into how your company operates.
Video is an incredibly versatile medium. Like with a lot of content, you're really only restricted by your imagination.
Video types that work well for most brands:
Demo videos
Excellent for informing and engaging your customers, demonstration videos showcase the unique benefits of your product, and help your audience to get the most out of their investment.
You could consider anything from unboxing physical products, to providing a virtual tour of your software.
Brand videos
Often used as part of a broader advertising campaign, branded video content highlight the vision, mission, and abilities of your business.
Coca Cola Brand Video
The goal is to build awareness of what your company can do, while attracting your target audience.
Interviews
Interviews with experts are an excellent way to highlight your thought leadership in a space.
Not only do they deliver useful information for your target audience, but these interviews help your clients to associate you with other influencers in your industry.
How-to videos
Educational how-to videos are a fantastic way to provide your customers with valuable guidance. Make sure that you focus on what your customers want to learn about.
Here's an example of a How-to video from ConvertKit, on segmenting email subscribers.
ConvertKit How-To Video
Things to consider when creating How-to videos is to check directly with your audience or your support team what your customers ask about the most, or what they have the most trouble with when using your product or service.
Behind the scenes videos
Finally, why not show your customers the people that keep the cogs turning in the back end of your business.
Behind the scenes videos make your customers feel special by giving them access to exclusive content. At the same time, they highlight the authentic nature of your brand.
Just check out this amazing behind the scenes video from Star Wars:
How to Create Excellent Video Content
Okay, now you know the basics of why you should create video content for your brand.
You also have a handy insight into some of the different types of videos that you can create. You're ready to begin building your material.
So, how do you ensure that the video content you're creating is going to be effective?
1. Know Why You're Creating a Video
Amazing content, whether it's in the form of a video, a blog, or a podcast, is never an afterthought. You need to know exactly why you're creating your video and what you're hoping to accomplish with it from the moment that you get started.
Ask yourself:
Who is your target audience? What kind of customer do you want to reach with this audience? Do you have a buyer persona that you can use to guide your tone of voice?

What's the goal? What do you want to accomplish with your video? Are you hoping to increase awareness of your brand, or sell more tickets to an upcoming event? Knowing your goal will help you to plan a more effective video.

How will you measure success? How will you know if your video has been successful? Are you going to measure progress in the form of conversions, new subscriptions, or just more traffic on your site?
If you're not sure what you should be writing about, continue sending surveys to your audience members to find out what they want to hear about.
Create a poll on social media, and engage with your audience about some of the common pain points that your they want to address. Basically: create the content your customers want!
For instance, look at this "Why use" sprout social video that makes it easy to understand the benefits of the platform:
2. Script Your Video
Off-the-cuff remarks and genuine comments are fine in a video, provided that they match your brand tone of voice. However, you can't afford to create a video without any guidance at all.
Most business videos will require a basic script to help keep you on track.
It's this script that will help you to figure out exactly what you need to cover, and stop you from waffling about things that your customers aren't interested in.
Remember, keep a script timer handy when you're writing and editing. Something that looks like a minimal amount of content on paper can add up to a lot of words in a script.
Another thing to keep in mind is that words on paper sound different than words said out-loud. Have a few people read your content to see whether it really resonates with your brand voice.
3. Get to Know Your Equipment
One of the biggest things that stops companies from experimenting with video content, is fear of the equipment that they need to use to create their films.
However, you don't necessarily need a complicated camera to get started these days. Plenty of small businesses produce content using nothing more than an iPhone and some basic editing equipment.
Remember, if you're planning on filming with your iPhone, make sure that your device has plenty of storage, and that you've turned on the do-not-disturb feature to reduce calls and notifications.
If you do want to opt for something a little more professional, then prosumer cameras can bridge the gap between advanced tech, and compact cameras.
You can also consider a DSLR if you want granular control over things like the depth of field and your lighting. However, you don't really need to go that advanced for small business videos.
Aside from a camera, consider some of the other video equipment you may need, such as:
A tripod to help avoid shaky camera issues
Audio equipment that helps you to capture voices in high definition
Lighting that brightens up the room and makes details easier to capture
If you're worried about shooting a video, you can always try working with an animator and using graphics instead, like Hootsuite does here:
4. Optimize Your Content
The kind of video you create for your business is up to you. For the most part, your choice will depend on the goal that you want to accomplish.
For instance, if you're trying to get more people to sign up to an upcoming webinar, you may decide to create a video that introduces customers to some of the key topics that you're going to cover in the webinar.
Alternatively, if you want to raise awareness about your product, a demo video could be the perfect tool.
When designing your video script, remember:
Don't be preoccupied with perfection: Most customers won't expect your videos to be Hollywood movie quality. Although it's important to have good lighting, and a basic knowledge of editing, don't spend forever trying to make your video look perfect.

Pose questions and engage the audience: Get your customers involved with the video. Ask them questions so that they know you're talking to them. Address key pain points that they've shared with you.

Include a call to action: Just like a blog post, make sure that your video has a call to action that lets customers know what to do next. For instance, you might want them to subscribe to your channel, check out an event page, or visit a product page.
A basic SEO strategy can be a great way to optimize your videos too. Remember, titles are an excellent way to capture the attention of the search engines, and your audience at the same time.
Adding keywords to titles and implementing them within your video description will help your videos to rank.
You can also use keyword variations in your tags. This will help your customers to find your content when searching on platforms like YouTube.
Check out the excellent description from this video by Neil Patel; it's fantastic for SEO:
4 Design Tweaks that can boost SEO - Neil Patel
5. Know How to Edit Your Video
Once you've finished creating your content (and optimizing it), you need to know how to edit it.
Video editing can be one of the most complicated parts of creating your visual content. It's easy to feel overwhelmed, particularly when you see how many different kinds of software packages are available.
The good news is that there are a lot of simple choices to tap into. For instance, if you're using your iPhone to capture video, or you're editing on a Mac, then iMovie might be an excellent choice. You can use this service to edit everything from music to sound effects and basic colors too.
Adobe Premiere Elements is a great video editing tool that is easy to use and affordable. It runs on both Mac and Windows.
For more advanced users, Adobe offers Adobe Premiere Pro, which is another great choice for both Apple and Windows users. It comes with various templates and advanced editing tools and has even been used on movies like Deadpool and Gone Girl.
If you are mainly doing screen recordings and tutorials, software like Camtasia for Mac and Windows or ScreenFlow for Mac might do the job.
If possible, it could be helpful to download the free trial versions of some of the potential software tools you're thinking of using.
This will help you to determine how easy-to-use your options are so that you can pick something suitable for you and your team.
6. Choose Promotion/Distribution Outlets
Once you're finished editing your videos, it's time to share them with the world. The good news is that the promotion options available for video content are incredibly varied.
You can upload your video and embed it into your website so that it appears on your product pages or within blog posts.
There's even the option to add video to some email marketing tools if you have access to the right software. However, we wouldn't recommend making your emails too heavy or they could be challenging to load.
Consider:
Using video search engines: Uploading your content to video search engines like YouTube and Vimeo will help them to be found.

Use your video on your websites: Adding product videos to your sales pages, and how-to videos to your blog posts is a great way to spruce up your content strategy.

Share on social media: Using video in social media is an excellent way to not only engage your audience but improve your chances of word-of-mouth sharing too.
You can also embed your videos in your landing pages too. Some stats indicate that adding a video to a landing page can increase your conversion rates by up to 80%.
Check out this fantastic video landing page from Outbrain for instance. The site immediately shows you what you can get from the service, boosting the chances of conversion.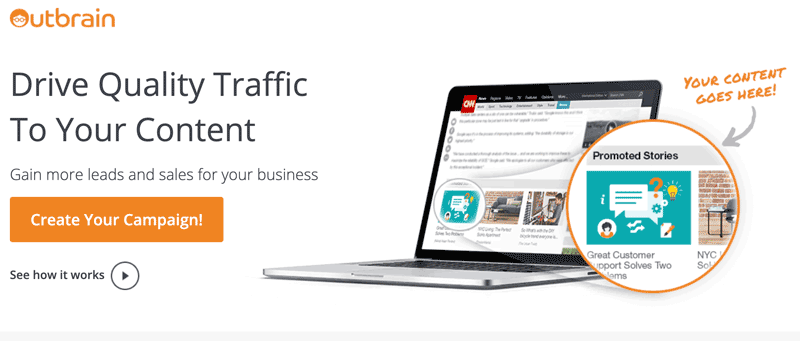 The Bottom Line on Video Content
Remember, creating and promoting your videos is just one piece of the original content puzzle. You also need to make sure that you're investing your cash in the right strategies.
The only way to do this is to analyze video performance and track your results. Tools like YouTube Analytics are excellent for learning more about your views, total watching time, and where your traffic is coming from. The more you measure your results, the more you'll know where you should be placing your cash.
While it does take time and effort to create a high-performing video strategy, it's definitely worth putting time and effort into.
If you have the right video content plan, and you're willing to keep working on your strategy, you could benefit immensely, from improved SEO performance and wider brand awareness to a healthier bottom line in no-time.
If you've found this article useful, please share on social media and follow us on Twitter or Facebook, thank you!
Disclaimer: Some of the links here and elsewhere on this blog are affiliate links that may provide me with a small commission at no cost to you. This enables me to run this site without annoying ads and to keep providing relevant and actionable content for free. Thank you!