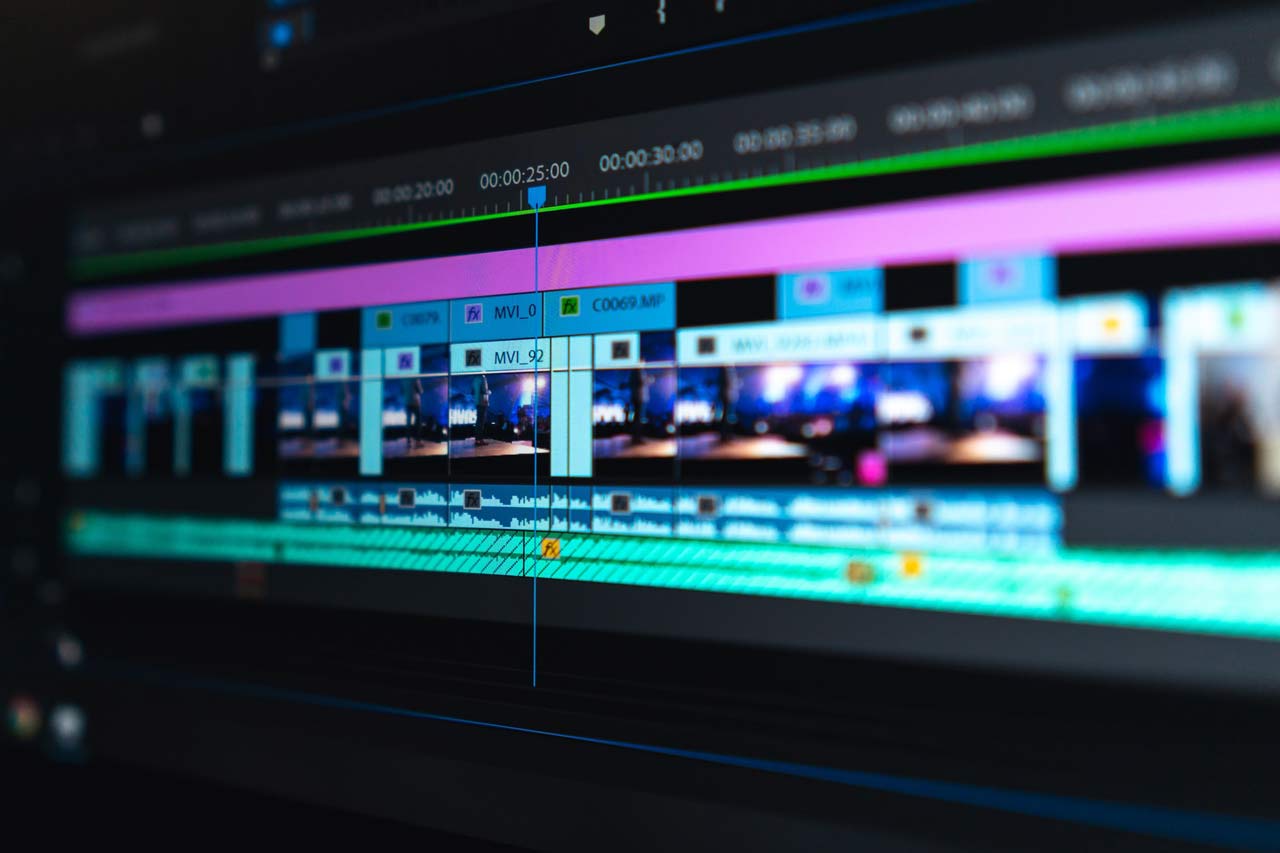 Best Video Editing Software on Windows and on Mac
Introduction
Whether you're creating videos for your product pages, or you want to invest in the power of video marketing, you need the right tools.
Having a high-quality camera and microphone is a good start, but even the most beautifully shot videos will often require a little polishing.
Whether you are video editing for Youtube or creating video content for a brand awareness campaign, post-production is a necessary part of video content creation.
That's where video editing software comes in. The right video editing app can ensure that everything from your Instagram stories to your Facebook ads look slick, professional, and compelling.
The question is, which software solutions should you consider?
We've put together this insightful list into some of the highest-rated options on the scene today. I'm pleased to say it contains serious options for video editing on Mac as well as video editing on Windows 10 and Linux.
There are also several FREE video editing software programs listed, so there is plenty of choice for any budget.
Let's dive right in!
Best Video Editing Software
DaVinci Resolve (Studio)
Davinci Resolve, now in version 16, is a professional video editing software tool complete with access to a range of amazing tools, including color correction, audio post-production, and even 8K editing.
It runs on Windows, Mac or Linux operating systems.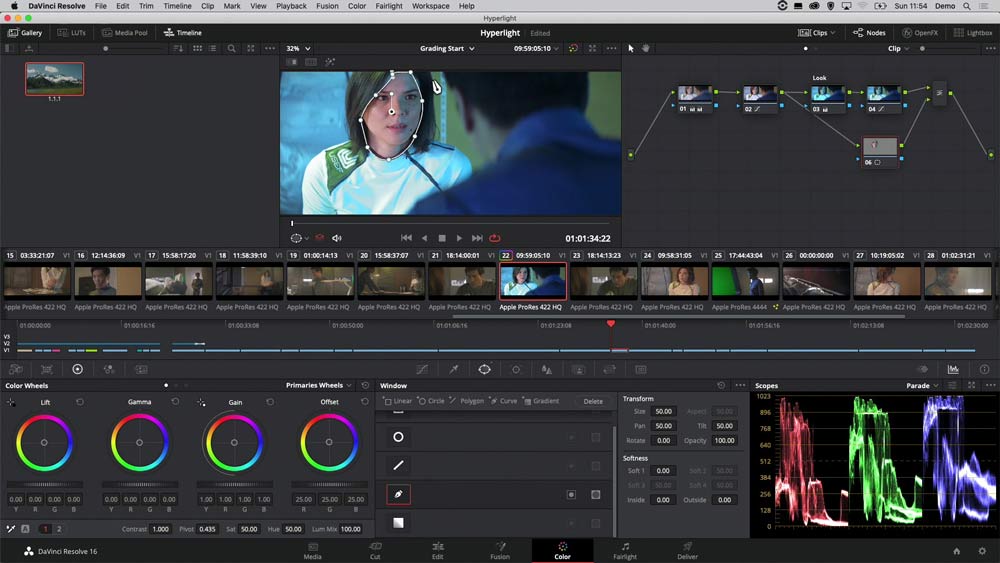 The free version, simply called DaVinci Resolve is a highly capable video editor.
Davinci Resolve Studio is the Premium and paid for version. It's the only video editing software in this list that is specifically designed for multi-user collaboration. You can work on your content with your editors and FX artists, for instance.
Despite the wide range of advanced video tools in the software, DaVinci remains a highly intuitive and accessible piece of software. You should still be able to get used to it with time even if you're a beginner. However, you might find that the technology is a little too complex for basic video editing.
Features include:
Dual timelines
Intelligent editing
4K and 8K video support
Fast review
Portable editing
Adjustment clips
Facial recognition
Keyframe curve editors
Pricing: There's a free version of the DaVinci Resolve for people who want to access basic visual effects, motion graphics, and color correction tools. Upgrading to the DaVinci Resolve Studio will cost over $300, but it is a one-off price (rather than subscription based pricing) and you will have access to multi-user collaboration, HDR grading, film grain, blur effects, and neural engine features.
Pros:
Intuitive interface
Stunning range of advanced features
Incredible intelligent components
Great for audio mastering too
Ideal for advanced projects
Free version available
Cons:
Can be a bit overwhelming for beginners
Quite expensive premium version
Not all tutorials are free to use
Get started with DaVinci Resolve
Lightworks
Lightworks is a video editing software solution available on Windows, Linux, and Mac. Designed to deliver incredible editing services for a low price tag, Lightworks is packed full of amazing features, and there's also a free version to get you started.
Since Lightworks has been available for around 25 years now (constantly evolving over the years), it's got a pretty impressive background. Lightworks has been used to make some films for the big screen, like Hugo, Pulp Fiction, and the Wolf of Wall Street.
Features include:
Simple user interface
Royalty-free video and audio content
Exporting options
Real-time FX
Easy editing, timeline, and trimming
Wide file format support
Pricing: There's a free version to get you started, or you can upgrade to the pro version for additional tools, for $25 per month. The more advanced features available for the premium price tag include 4K video support.
Pros:
Great tutorials for beginners
Excellent for all-round editing
Very powerful performance
Free version available
Easy to use
Cons:
Maximum export format 720p (1280x720) in free version
Only get 4K support in paid version
Takes a while to learn more advanced features, like GPU and histogram tools
Openshot
Openshot is an entirely open-source solution for video editing.
That also means that Openshot is one of the most flexible and appealing tools available for a wide selection of users. The fact that Openshot is open-source means that you can access it for free. What's more, there's a host of amazing features to help you upgrade the quality of your videos.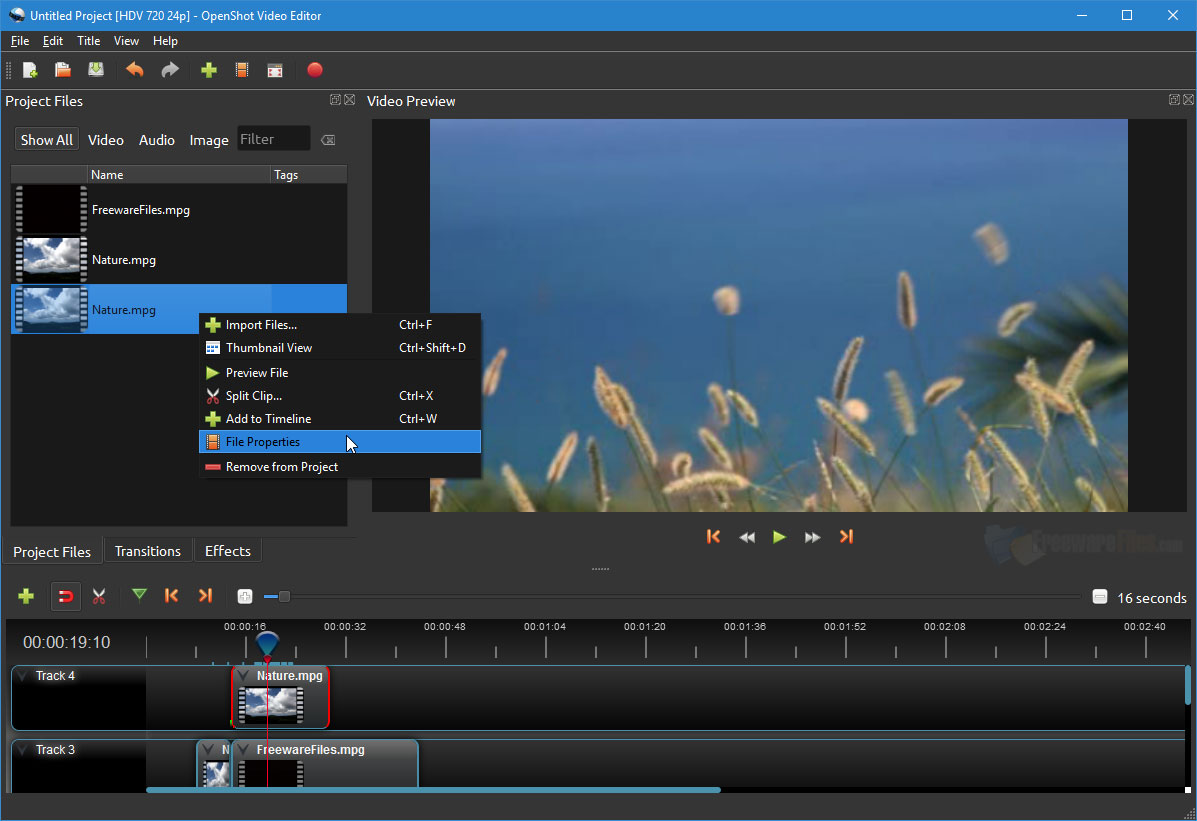 For instance, Openshot technology works on virtually any environment, including Mac, Windows, and Linux. With it, you can add as many layers as you like, unlock watermarks, and even implement unique video effects. The free editor packs a lot more features than you'll get elsewhere, and it also comes with a simple interface that's great for beginners.
Features include:
Cross-platform performance
Trim and slice technology
Keyframes and animation tools
Unlimited tracks
Video effects (inverting, brightness adjusting etc)
Audio waveforms
Pricing: Openshot is free to use forever, making it a top choice for businesses that have a limited budget to spend on their video content.
Pros:
Easy to access and use
Lots of features for a free service
Available to use on any platform
Access to audio as well as video editing
Regular updates and improvements
Cons:
Not a lot of tutorials
No advanced features like 4K editing
Avidemux
At first glance, Avidemux doesn't look like much. Their project page on SourceForge looks like a 1996 website throwback. Don't let that put you off too much though.
Available on Linux, Mac, and Windows, it's a video editing software app specifically designed to appeal to beginners without a lot of experience in their field.
If you're entirely new to video editing, then this will give you a good place to get started.
You can unlock various basic tasks, including encoding, filtering, and simple cutting components, so you can add and remove aspects from your movies.
However, it's worth noting that there aren't nearly as many features here as you would get with other tools.
Of course, Avidemux is free to use, so it could be a good option if you're on a budget.
Features include:
Basic cutting
Encoding
Multi-file support
Cross-platform support
Filtering
Pricing: Free to use
Pros:
Affordable
Easy to use for beginners
Basic tools for video editing
No real need for technical knowledge
Cons:
Limited in features
Missing out on advanced options
UI seems a bit clunky
iMovie
As the name might indicate, iMovie is a solution designed for Mac users only. And it comes free with any Mac.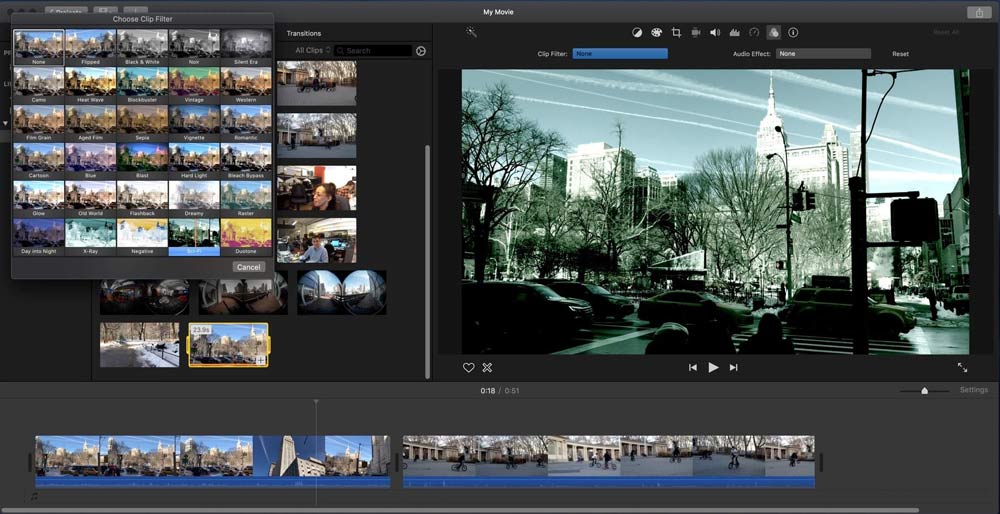 Like most native software from Apple, this video editor benefits from an intuitive interface that's very easy to navigate and use. There's drag-and-drop editing available for beginners, and you can also find plenty of tutorials and resources online to help you jump in.
It's one of the few video editing sotware packages that also has a free video editing app for iPhone and iPad.
However, as easy as iMovie is to learn, it is quite basic. As you begin to develop your skills, you'll likely search for something more advanced.
Features include:
Support for 4K movies
Very easy to use interface
Drag and drop editing
Studio-quality titles
Special effects included
High-fidelity filters
Soundtrack support
Pricing: Free for Mac users and also available for free on the Apple store for iPhones and iPads.
Pros:
Easy to learn and use
Audio editing included
Lots of pre-made filters and transitions
4K resolution support
Split-screen editing
iPad, iPhone, and iMac access
Cons:
Only available on Apple Mac and iOS devices
Limited on advanced features
Render times can be a bit slow
Kdenlive
Kdenlive is another excellent tool for video editing designed for beginners and those with expanding codebase knowledge. The Kdenlive solution comes with access to a comprehensive toolbox, which is great if you're just learning how to use tech like this for the first time.
There's also an active community of people to turn to for guidance.
Features of this service expand from multi-track video editing, to title makers, and a timeline preview for social media. You can automatically backup your videos as you make them and customize your interface and shortcuts to suit you.
Features include:
Multi-track video editing
Support for a wide range of video/audio solutions
Customizable shortcuts and interface
Timeline preview access
Proxy editing technology
Keyframe effects
Automatic backups
Pricing: Free for Windows, Mac and Linux
Pros:
Great for anyone on a budget
Good community for learning
Cross-platform support
Audio technology included
Automatic backup
Cons:
Limited functionality
No 4K and above support
Adobe Premiere Pro
It'd be hard to produce an entire article about video editing tools without discussing the software from Adobe. Adobe Premiere Pro is often regarded as the industry standard for video.
If you're a Windows user and you don't mind dedicating some time to learning about the basics of Adobe, then this is the tool for you.
Aside from giving you a wide selection of amazing tools to choose from, including uncapped numbers of video tracks, and access to special effects, Adobe often provides discounts and offers for its software.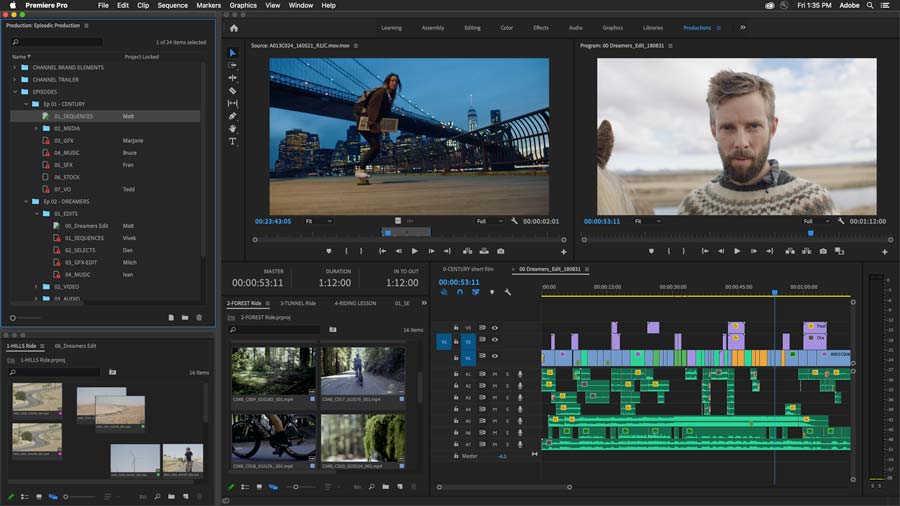 You can import content from virtually any source. There's also a companion app for the Premiere Pro technology called Rush, which allows you to work with the footage you capture on your phone.
Features include:
Industry-leading tool for video edits
Integrations with other apps and services
Uncapped video streams
Access to plenty of extra features
Import from any source
Smartphone app available
Pricing: You can keep costs relatively low by buying Premiere Pro on its own for only $20.99 per month. However, if you're doing a lot of photo, video, and animation editing, you might be better off upgrading to a full Creative Cloud membership. Access to all of the apps at once is $52.99, which might seem expensive. However, it does provide access to more than 20 apps at once.
Pros:
Excellent industry-standard performance
Amazing selection of smart features
Uncapped on video streams
Access to various integrations and extra tools
Plenty of offers from Adobe
Cons:
Expensive to access all the features
Can be difficult to learn at first
Get started with Adobe Premiere Pro
Final Cut Pro X
Final Cut Pro, latest version being Final Cut Pro X (10), is another video editing software solution specifically designed for Mac users. The main difference between this software and iMovie, is that Final Cut Pro is a lot more advanced.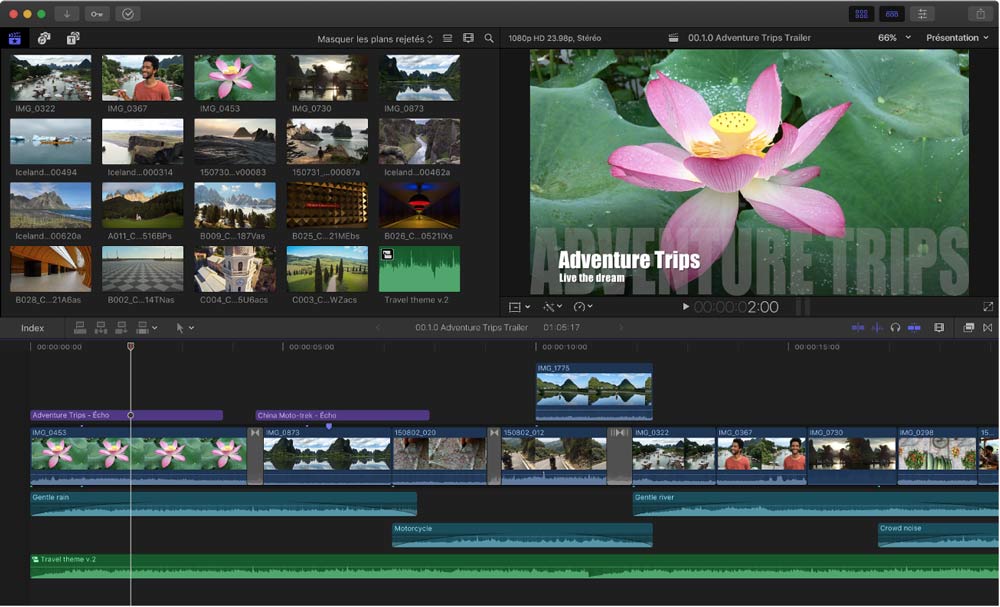 It comes with a fantastic intuitive interface, just like iMovie, and it's great for anyone who's already used to the Mac OS. There's even the option to sign up for a free trial to begin with, so you can make sure the tech is right for you.
If you're already invested in the Apple ecosystem, the Final Cut Pro solution comes with everything you need to take your videos to the next level. You can even coordinate your video editing tools with iTunes and photos collections that you have saved on your devices.
Main features of Final Cut Pro X include:
Fast performance that's constantly upgraded
Optimized for Mac OS
Multi-cam access
Motion graphics
Organizing tools for your content
Audio and noise reduction tools
Advanced color correction
Pricing: Final Cut Pro is one of the more advanced options on the market today. If you're looking for state-of-the-art editing technology, you'll need to pay a one-time price of $299.99. A much better deal than getting locked-in to a monthly subscription fee like with Adobe Premiere Pro. The good news is that you also get a significant free trial period which lasts at least 30 days.
Pros:
Plenty of advanced features
Leading industry standard technology
Fast and easy to use
Fantastic for audio and noise reduction
Cons:
Only available for Mac users
Can be quite expensive
Get started with Final Cut Pro
Adobe Premiere Elements
Another great offering from Adobe comes in the form of Adobe Premiere Elements.
Designed as an affordable but professional way to edit videos and animations, Adobe Premiere Elements makes editing your video content as simple as possible.
You can enjoy auto-generated creations for your product images and websites and make all your videos look amazing with in-depth editing. What's more, Premiere Elements works with the rest of the Adobe stack too.
The Premiere Elements service from Adobe isn't quite as complex as the Premiere Pro video editing technology. Premier Elements is more suited to occasional video creators than full-time professionals.
You can buy Premiere Elements and Photoshop Elements together at a discounted price if you want video and image editing in-one.
Premiere Elements features include:
Auto creations
Easy-to-use interface
Guided edit support
Dynamic time lapsing
Animation tools
Social media integrations
Intelligent editing
Robust community
Pricing: You can purchase Elements on its own or as part of a complete selection of Adobe tools. You can buy Premiere Elements on its own for $86.56 (with VAT). If you want Premiere Elements and Photoshop Elements together, the cost goes up to $130.36. Of course there is always the 30 day Free trial.
Pros:
Intuitive and easy to use interface
Fantastic for beginners
Great selection of features
30-day free trial included
Integrations with the rest of the Adobe environment
Cons:
Lacks some advanced features for pros
Can be a bit expensive
Get started with Adobe Premiere Elements
Corel Video Studio Ultimate
Corel VideoStudio Ultimate is another high-quality video editing software tool designed to support beginners.
Key features range all the way from real-time effects in your videos, to color correction.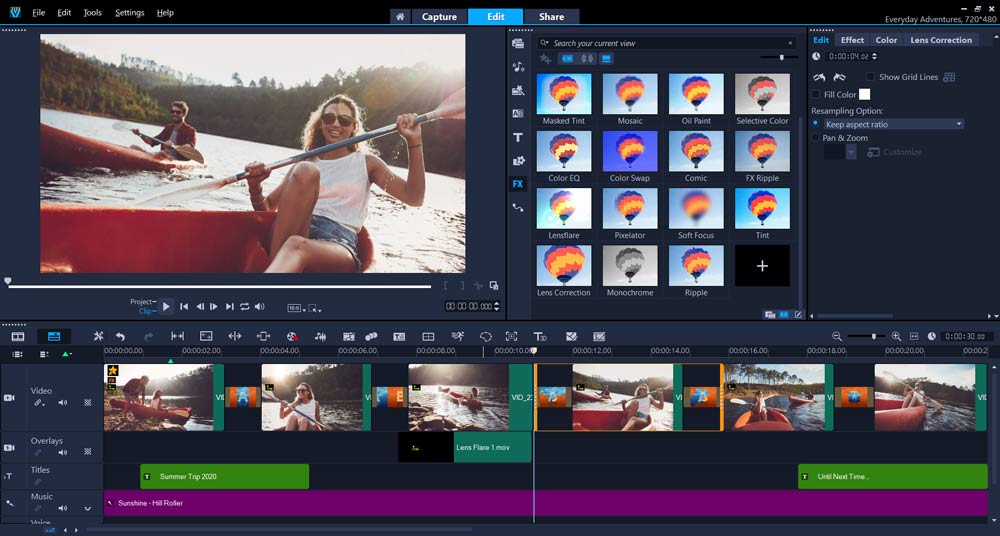 You can even access a range of smart tools that are designed to help you capture customers and earn their trust.
Corel VideoStudio is either available as a stand-alone service or as part of a comprehensive collection of tools including a slide-show and image editor.
Corel VideoStudio has everything you need to expand brand awareness and enhance your digital image.
Features include:
Split screen videos
Overlays and templates
Multi-level video editing, including 4K
Chroma Key and Green Screen
Stabilization for video
Video masking
Color and lens correction
Custom real-time effects
Pricing: To get you started, there's access to a 30 day free trial from the Corel team. However, after that, you'll need to unlock the premium version of the tool if you want to access all the features. Pricing for Ultimate starts at $89.99.
Pros:
Easy to use
Great for beginners
Range of advanced features included
Color and lens correction
Advanced color grading
Includes screenrecording
Animation features
Good audio editing
Social media integrations
Cons:
Can be expensive
A little basic for some pros
Get started with Corel VideoStudio Ultimate
VideoPad
Next, we come to VideoPad, a video editing software system designed for Windows and for Mac users.
This video editing app has over 4 million downloads, so you know that it's worth its salt. It's also incredibly easy to use, with an immersive user interface.
Great for multimedia editing, this solution lets you add a host of effects to video and audio.
What's more, with VideoPad, you can also add still images to your composition too. This can be helpful if you're walking your audience through the features of a product, for instance.
Features include:
Comprehensive editor
Export a range of presets
Multi-media editing
Great help section for beginners
Intuitive interface
Various composition options
Pricing: Free version available for non-commercial use, and $99 for what they call the Master's Edition.
Pros:
Very simple interface
Great for multi-media editing
4K support
Help section is very useful
Windows and Mac versions
Affordable pricing
Free for non-commercial use
Cons:
Doesn't have a lot of advanced effects
May be too basic for advanced users
Which Video Editing Software is Right For You?
There are plenty of fantastic video editing tools on the market today, choosing the one that's right for you will mean thinking carefully about the kind of functionality you need.
If you're looking for something that's packed full of incredible features, then the Premiere Pro software from Adobe is likely to be the best option for you. Adobe's Premiere Pro is the go-to tech for dozens of market-leading film editors.
If you are a Mac user, start off with using iMovie first, and perhaps move onto Final Cut Pro when you need more advanced video editing features.
If you're looking for something a little more straightforward and ready for beginners, then you might prefer to experiment with DaVinci, Corel VideoStudio or OpenShot.
Which video editing software will you be trying this year? Let us know in the comments!
Disclaimer: Some of the links here and elsewhere on this blog are affiliate links that may provide me with a small commission at no cost to you. This enables me to run this site without annoying ads and to keep providing relevant and actionable content for free. Thank you!