SiteGround vs Bluehost: Who is the best and ultimate WordPress hosting provider in 2020?
Introduction
Every website needs a web host or hosting provider to host their site. A web host is a service provider that stores your website's information, including, but not necessarily limited to textual content and HTML, scripts, images and stylesheets (CSS). It also serves this information up and ensures the website is globally available and can be rendered and displayed via any sort of web browser, like Chrome, Firefox, Safari, Edge or similar.
Given that WordPress is the most popular Content Management System (CMS) in the world, with 35% (yes, thirty-five!) of all websites hosted on WordPress, according to W3Techs, it makes sense to assess two of the biggest web hosting providers that offer WordPress hosting.
You need a fast load time because people have no time to wait. We are no longer in an era of dial-up internet connections where you have to brew a cup of coffee just to download a page full of photos and videos.
These two giants are SiteGround and Bluehost.
Table of Contents
From the below worldwide comparison between on Google Trends, you can see that if this was a popularity contest, Bluehost would win the day.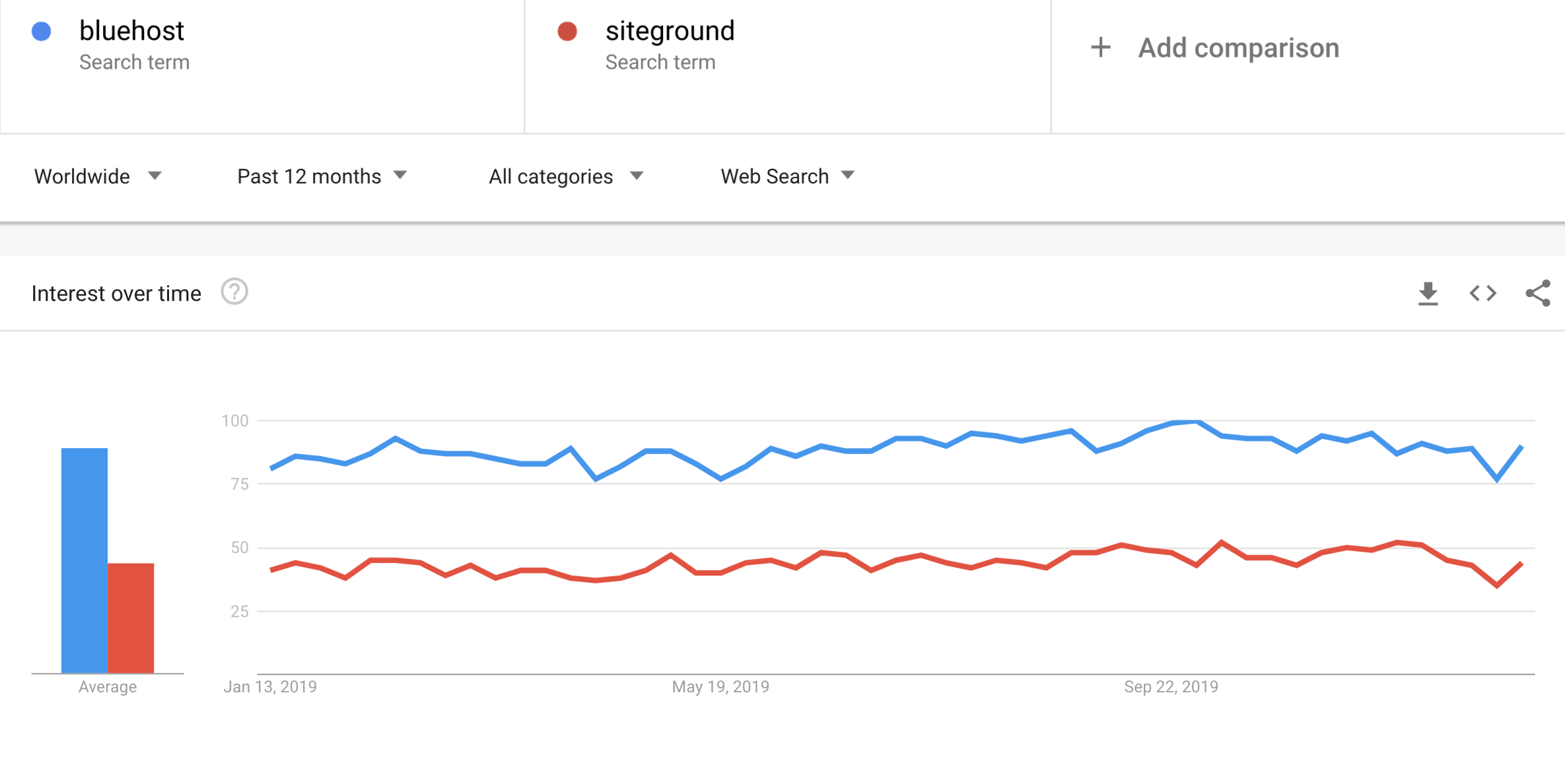 Which one should you choose? And what is important to you? In this SiteGround vs Bluehost web hosting review, we will take a look at the following:
Services offered
Speed
Ease of Use
Prices
With these criteria, we will be able to determine which of the two services you should go for, depending on your needs and budget.
Let us get started!
Services Offered
While you may not realize it today, your website will grow and you will need to upgrade the services from your web host. A time will come when you would have uploaded too many photos, videos, and content on your website that more storage would become a necessity.
As your website grows, you will also start considering dedicated hosting. It is in this regard that we need to take a look at the different services that you can get between SiteGround and Bluehost.
SiteGround's Services
SiteGround offers the following services:
Web Hosting – three plans that range between $3.95 and $11.95. This service comes with a web builder, but not in WordPress. You will also receive essential features such as free SSL, email accounts, 24/7 support, and more.

WordPress Hosting – this is the plan offered to those who want to use WordPress. The price range is the same as the Web Hosting service, and the features are the same. The main difference is that you will be using WordPress as your panel for managing your website. You can sign up for SiteGround's StartUp WordPress plan here for only $3.95! (Note that we get small affiliate commission at no cost to you when you click our link.)

WooCommerce Hosting – WooCommerce used to be a plug-in for WordPress, which has now branched out into a full-fledged website and e-commerce builder like WordPress. The services and prices are the same as the previous two.

Cloud Hosting – this is the service where you rent a server and is typically used by large companies because the features of the previous three plans are no longer enough. In this service, hosting is still shared but you get to choose the power. Cloud hosting by SiteGround costs between $80 and $240 per month, and you will have several options for your processing speed, memory, storage space, and data transfer speed, which is capped at 5TB of data transfer speed.
If these services are not enough, opt for a Dedicated Hosting service plan. On this plan, you will have your servers (rented) managed by SiteGround, instead of buying your very own servers and setting them up in your server rooms.
The Dedicated Hosting service has three plans that range from $269 per month to $729 per month. Like Cloud Hosting, you can choose the speed and storage capacity of your servers, but this is not shared with other website operators. These machines are dedicated to you.
Bluehost's Services
Now, let us take a look at the services of Bluehost.
WordPress – this in itself is a category that is split into three levels. The first one is the ordinary WordPress, and the other two are called WP Premium and e-Commerce. Each category has three plan tiers, and the prices range between $2.95 and $12.95 per month.
The e-Commerce service uses WooCommerce, too, but in the WordPress platform. So why these differences?
You see, you can create a WordPress (WP) website without Bluehost. But since Bluehost is in partnership with WP, these three plans are nothing more than a reflection of the cost of WordPress plans (if you are not using a web host).
Hosting Services – like WP, this area has three sub-categories. With Bluehost, you can get shared hosting, VPS hosting, and dedicated hosting.
Similar to what SiteGround is offering, the shared hosting plans do not allow you to build a website on WP, but on another web builder. But unlike SiteGround, this plan has no web builder. The cost of this is between $2.95 and $13.95 per month.
The VPS stands for Virtual Private Server. This is the equivalent of Cloud Hosting. You want to use these services in the future if your website has outgrown an ordinary hosting service.
Like SiteGround, this comes with a choice of processor speed, data transfer speed, and storage capacity. The price for this service is between $18.99 and $59.99 per month.
Dedicated Hosting – this one ranges from $7.99 to $119.99 per month. Like the one offered by SiteGround, your company can enjoy the benefits of dedicated machines to run and host your website.
Bluehost also offers domain names and marketing services, both of which are not available on SiteGround.
The winner here is SiteGround, and that is justified by the presence of its web builder. If you do not like WordPress, SiteGround offers you an alternative but Bluehost doesn't.
With Bluehost, you are stuck with WordPress. If you do not like the WordPress platform, you are pretty much left alone to look for an alternative builder that integrates with Bluehost. In short, you cannot use the hosting service if you have no technical background about building websites.
WINNER: SiteGround
Speed Test
The web host provider stores your information in servers. These servers communicate to the internet, and as a site visitor clicks on a link on your webpage, the server receives the request for the resource (HTML page, image, etc.) and delivers (or serves, hence the name 'server') the content back to the site visitor's web browser.
Whenever you move from one webpage to another because you clicked on a link, it is the server that delivers that page. A slow server will cause the web page to "trickle," while a fast one will load the web page in around one second, and less than two seconds.
Why do you need a fast load time?
You need a fast load time because people have no time to wait. We are no longer in an era of dial-up internet connections where you have to brew a cup of coffee just to download a page full of photos and videos.
Slow page speeds will make site visitors either stay or abandon your website. And if they do abandon, you lose traffic or a sale.
If you are operating an e-commerce store, your customer would certainly want to see the product pictures and or demo videos quickly. If the page loads too slowly, that customer is going to leave and you just lost a potential sale.
Just think of the many times you clicked on a webpage, and it took too long to load. Did you not abandon that page?
This is what's called a bounce: a person visits only one page of your site and then navigates away from it. It is one of the key metrics that helps Google (via Google Analytics) determine if your website is worth showing to people or not.
A website with a lot of recorded bounces will not get ranked high on Google's search engines. This naturally leads to less organic website traffic.
Here is a summary of the results for the speed test between these two web hosting providers in seconds.
Pingdom Test – SiteGround average is 1.4 while Bluehost is at 5.3
GMetrix – SiteGround average is 1.4 while Bluehost is at 4.5
Webtest – SiteGround average is 1.6 while Bluehost is at 5.8
So, as far as SiteGround vs Bluehost speed is concerned, who has the better performance? With these numbers, the winner is clear.
WINNER: SiteGround
Ease of Use
For a long time, it seemed that geeky people were the only persons who had the right to tinker with technological platforms. But Steve Jobs changed all this.
Steve Jobs believed that user experience is the key to a company's success. He was right, and he inspired people to do the same. This is why every tech company today wants its products and services easy to use, even by the common person.
Between Bluehost and SiteGround, which one delivers a smoother and seamless user experience?
Take a look at some facts below:
Both use c-Panel solutions
Both offer FTP, file managers, and email accounts
Both offer the ability to enable CloudFare
What is c-Panel?
This is your dashboard, also known as your control panel. This is where you apply changes to your website, and this is also the area where you can access other services from your hosting provider, such as marketing tools, email, FTP domains, and others.
In fairness to both, they offer the same level of customer experience as both c-Panels are intuitive and easy to use. You can get things done with a few clicks, without needing to have any coding skills at all.
The thing with Bluehost is that it bombards you with ads and it teases you to upgrade once in a while. This can be a little irritating, as you feel like you are being held hostage to get upgrades. The upselling can be quite distracting from the UI experience and downright annoying.
If not for this, it would have been a tie as we compare Siteground vs Bluehost in terms of ease of use.
WINNER: SiteGround
## SiteGround vs Bluehost Pricing Now, we need to go to the final test: pricing.
Earlier, we tested the value that you get for your money but only in terms of the first WordPress package. Now, let us look at the three plans of each provider and talk about some key points of contention.
But first, take a look at the screenshots below: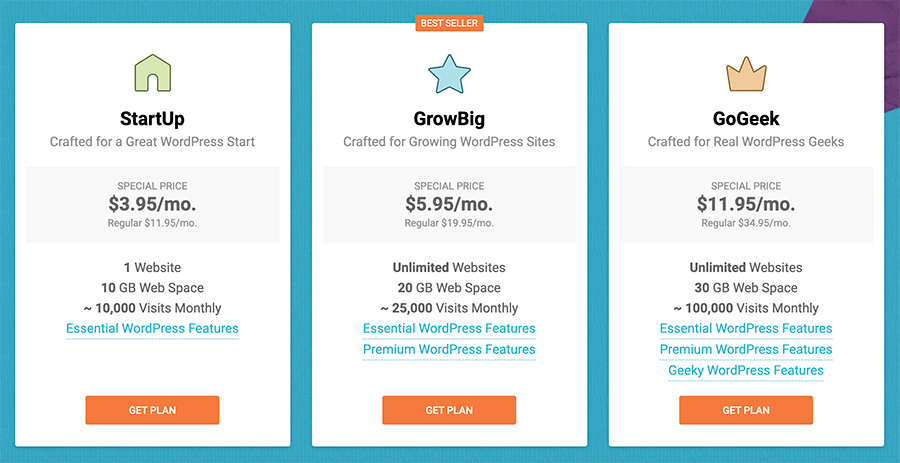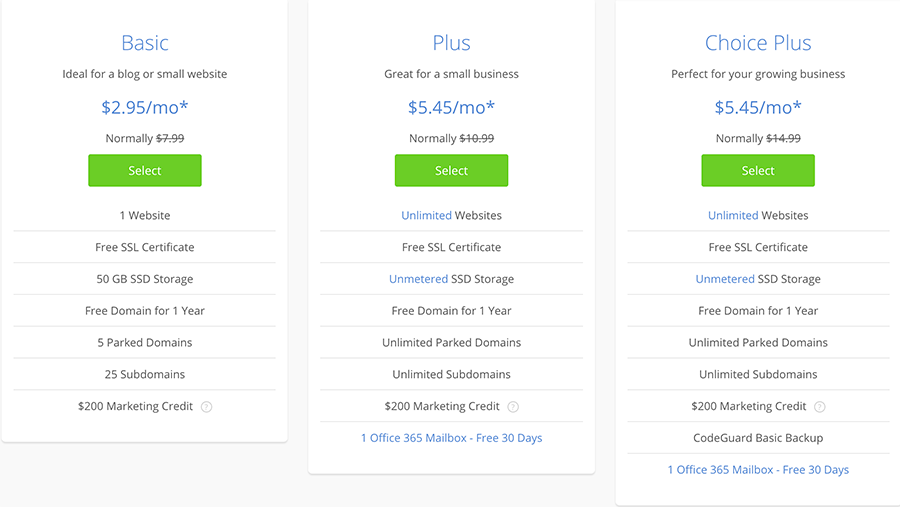 At the most expensive Bluehost plan, you only pay $5.45 per month. In exchange for that, you get to build unlimited websites, unmetered storage, one free domain, marketing credits, and more.
With SiteGround, you have to pay $11.95 per month to get to that level of service. And at the GoGeek package of SiteGround, you still face a storage limitation of 30GB and a limit of 100,000 site visitors per month.
The Premium and Geeky features of SiteGround are not so important as your capacity to operate. A website that gains traction will easily get more than 100,000 site visitors over time.
As far as value for money is concerned, you already know the winner.
WINNER: Bluehost
Verdict
Based on the criteria laid out above, let us take a look at the summary for each, and then determine the winner for our SiteGround vs Bluehost hosting review:
Services Offered – SiteGround
Speed Test – SiteGround
Ease of Use – SiteGround
Pricing – Bluehost
Out of the four criteria we tested, SiteGround won three times. SiteGround is the better choice here, and SiteGround is what we would recommend.
While money is a critical factor, the differences in pricing are not going to break your bank. For example, the base plan of the two companies only has a one-dollar difference.
Even if you go to the third tier for WP hosting services, the different between SiteGround and Bluehost is only $6.50, with SiteGround being more expensive.
But for $6, you get more speed from SiteGround against Bluehost. Speed is something you cannot compromise. People will leave your website if your website takes more than 3 seconds to load. Therefore this is a big deal. Website speed should be important to you.
While you may think that three seconds is small, it can make all the difference. If people leave your website, you will have a higher bounce rate.
With Bluehost, a site visitor is likely to bounce because the web page is not loading quickly enough. As your bounce rate goes higher and higher, the Google algorithm will think that you are not providing value and that you are not providing a great user experience.
As a result, your website and its pages will not get ranked high on Google's search engines. And if this happens, you will have less traffic. It's very much a nasty, vicious circle.
Summary
SiteGround and Bluehost are both capable companies that delivery powerful hosting services. They have been around for a while, and both of them are servicing roughly 2 million domains.
The deal-breaker between the two is the speed factor, and also the price. Globally, price is a critical factor because a vast majority of websites are owned by employed individuals. These are people who want to get their foot in the door of e-commerce.
This, however, does not mean to say that it is the only thing that matters. Take a look at each of the reviewed items, and rate and weight them according to your needs.
Our choice here would be to go with SiteGround. Whilst they are slightly more expensive, they seem to be offering a much better deal in terms of website speed, compared to Bluehost.
You can sign up for SiteGround's StartUp WordPress plan here for less than the price of a cup of coffee per month!(Note that we get small affiliate commission at no cost to you when you click our link.)
If money is tight, Bluehost might be an option to at least give a go. But don't say we didn't warn you! SiteGround even offer some plans with a free WordPress migration option.
Disclaimer: Some of the links here and elsewhere on this blog are affiliate links that may provide me with a small commission at no cost to you. This enables me to run this site without annoying ads and to keep providing relevant and actionable content for free. Thank you!